Giving Back Through Crisis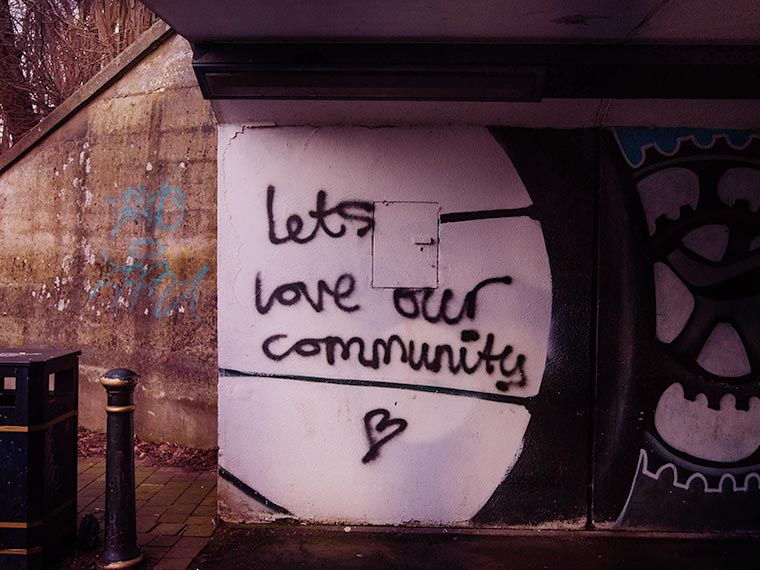 It has been said through uncertain times, those that cope best, are those that help another.
As we navigate this time of crisis, the pandemic can offer us each an opportunity to be kind, support each other through the struggle and share a little generosity, in the spirit of coming together and building community.
For many of us, these times are affecting us each in different ways, one analogy used to describe this was weather patterns:
For some it's a light drizzle, a slight adjustment, perhaps an opportunity to pause from the everyday rush or norm, even a chance for peaceful reflection.
For others it is a storm, it's frightening, it can feel disruptive with the uncertainty and unknown of when it might end. There are sleepless nights and restless days, a mix of emotions from fear to anxiety.
For the remainder it's a hurricane, tearing at their foundations and everything they've built. It's life threatening, all consuming, with it's shadow of fear and doubt, seemingly with no end or hope in sight – it is life changing.
So how can we help those fighting for life, in struggle, navigating the Covid Hurricane?
Acts of kindness
, support, small tokens of help, a creation of small ripples of hope and positive pieces in the puzzle, as they try to piece everything together at this time of crisis. Not only does a single act of kindness benefit another, we reap the rewards too. It's been reported that when we perform an act of kindness, we too get the hit of endorphins, as if we were the recipient of the good deed!
It's good for our health to give back too. Oxytoxin (the love hormone) is produced when we help another, lighting up the pleasure centres and reward centres in our brains.
Performing good deeds can create a greater sense of life satisfaction, boost our happiness, improve our mood, foster connection, boost our immunity, build resilience and help reduce anxiety or depression.
Kindness is contagious – there's no better time to spread a little good will into the world right now!
With many businesses forced to close, it is a key time to offer support – purchasing a gift voucher or product online for future delivery (once we can expand our bubbles a little more), are just two ways we can do that right now.
Maybe it's checking on an elderly neighbour, offering support, a friendly smile and seeing if they need any essential items on our next grocery shop.
Perhaps its reaching out to a local charity, making a small donation, volunteering some time where possible. Every little bit counts, especially at this time of greater demand.
Whether its a small act, like writing a kind note, sending a text message to check in on a loved one, supporting an elderly neighbour or those at most risk, buying from a local business online or supporting a local charity – no act of kindness is ever wasted, it can be the beginning of hope for many, sparking a little positivity in someones day.
Why not do a little something for someone else today, you never know whose life you might make a little brighter, through the storm.
Here are a few ways we can give back at this time, it's recommended to research any charities you may offer assistance to, making sure your contribution will be put to maximum use and help those in need to get maximum benefit.
Support local Charities
These Givealittle pages are dedicated to supporting Charities who have had to change or cancel their annual fundraiser events due to Covid 19 – they need support to keep providing their amazing services:
Givealittle
Support Our Small Businesses
SOS is a not-for-profit initiative supporting local NZ businesses during the COVID-19 pandemic. Buy a voucher now, redeem from your local later – Cafes, Restaurants & Bars.
SOS Website
Support Essential Workers
Support your Crew is a not-for-profit initiative that provides a way for Kiwis to gift fuel, supermarket and café vouchers to support our Essential Workers who continue to provide the services that keep us safe during the Covid-19 pandemic.
Support Crew
Volunteer your time
Help the Colour Our Story initiative from the comfort of your home tracing children's artworks. An initiative connecting children all over the world through the power of story telling and colouring in. Something your children can get involved with too, creating outline drawings (for their colouring in books) and short stories.
Colour Our Story
About Amy Willoughby
Amy is a writer, content creator and life coach at Be and Bloom. Amy is passionate about connecting people through writing, coaching and the power of storytelling. The first 20 years of her career was spent behind the stylists chair as a hairstylist, where she honed her skills of listening, holding space, connecting and creating clarity through conversation.
Amy's hairdressing career came to a close after spending 3 years helping clients journey through chemotherapy, fitting and styling wigs. This was the perfect bridge and catalyst for retraining as a life coach which has led to exploration of values, modalities of wellbeing, writing and storytelling.
More about Amy and Be and Bloom…
References:
Warneken, F & Tomasello, M. (2006). Altruistic helping in human infants and young chimpanzeees. Science, 311, 1301–1303.
Harbaugh, W. T., Mayr, U., Burghart D. R. (2007) Neural responses to taxation and voluntary giving reveal motives for charitable donations. Science, 316, 1622–1625
Schnall, S., Roper, J. and Fessler, D.M.T. (2009) Elevation leads to altruistic behavior. Psychological Science, 21(3) 315–320
Photo by 
Mike Erskine
 on 
Unsplash
Disclaimer:
While we endeavour to research all charities and causes mentioned here, we are not affiliated with or receive any kind of payment from any charity or cause. We can't be held responsible for the choices you make, so please do your own research into charities and causes you choose to support. These are just suggestions. More information
here
.