Less Clutter, More Meaning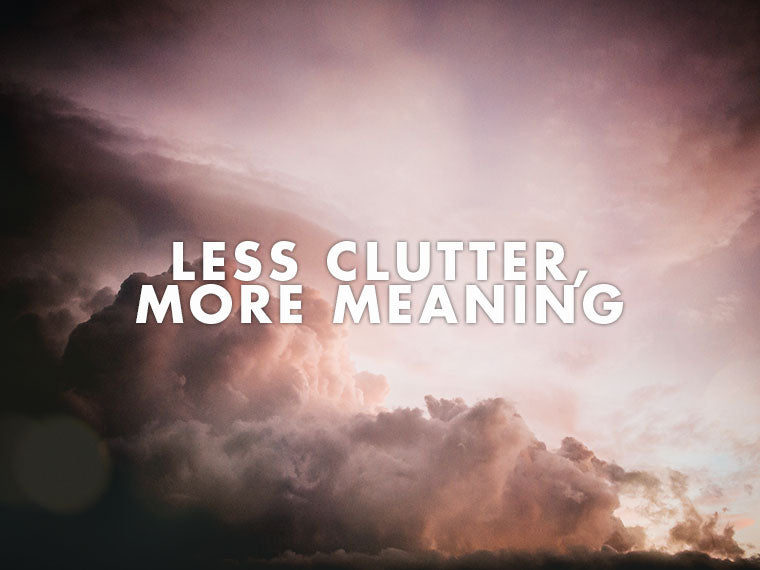 I always seem to be de-cluttering my home. It feels like a type of cleansing for me. It not only cleanses my home but my mind too.
It can be overwhelming, so I like to just pick a certain area of my home and just work through that. Step by step my home becomes less and less cluttered and it feels like what is left is important and valued.
Being messy can actually cause a lot of stress , so it is good for us to set aside some time to work on areas that start to feel 'heavy' or cluttered. I always feel so much better about working in my office after I spend some time sorting it out, doing my filing and getting things clean and orderly. It means I am more efficient because I know where things are and I just feel a lot happier in a tidy space.
So far this year I have:
Cleared out my pantry and a few of my kitchen cupboards. Donating platters and containers that I just never use. I had an entire drawer filled with containers with no lids or lids but no containers. Not sure where they all disappear too. I am clearing out a lot of plastics which I am wanting to remove from my home.
I have sorted through my boy's clothing and donated a bunch that my youngest had outgrown to a local second-hand shop. As I have three boys, I always pack away clothes in boxes every six months or so that the older two have outgrown. This saves our family a lot of money. I love recycling items and giving clothing value which seems to have been lost. We are so quick to throw items out. Gone are the days of sewing up a hole or popping in a knee patch to make items last longer. I have to admit I am pretty bad at getting out a needle and thread. You will, however, see my boys bouncing around with the odd hole!My wallet was bulging, and unfortunately, it wasn't with money, so I cleaned through that today, throwing away cards and receipts that I didn't need.
My wallet was bulging, and unfortunately, it wasn't with money, so I cleaned through that today, throwing away cards and receipts that I didn't need.
After cleaning out my wallet I moved onto my handbag and was shocked to see what was hiding in there! I can say my handbag now weighs a whole lot less than before.
I plan to try and get through the house bit by bit and decide on what really needs to stay and what items just clutter and cause a mess. The kid's toys are a big issue and so we all sit down together and the boys get to pick which items will stay and what items we can donate. The key to this is to STOP BUYING MORE! No point de-cluttering when I keep bringing more into the house, although I think it could be the grandparents with regards to the kid's toys.
There are boxes that have yet to be opened filling an entire cupboard from when we shifted nine months ago. It makes me wonder what is actually in them worth keeping. My plan in the next month is to at least empty one of the boxes.
Slowly but surely, my home will be filled with items that we truly value and we should have a lot less 'stuff'.
What do you really need to clear out in your home?