There's Plenty of Time to Sleep When You're… Dead?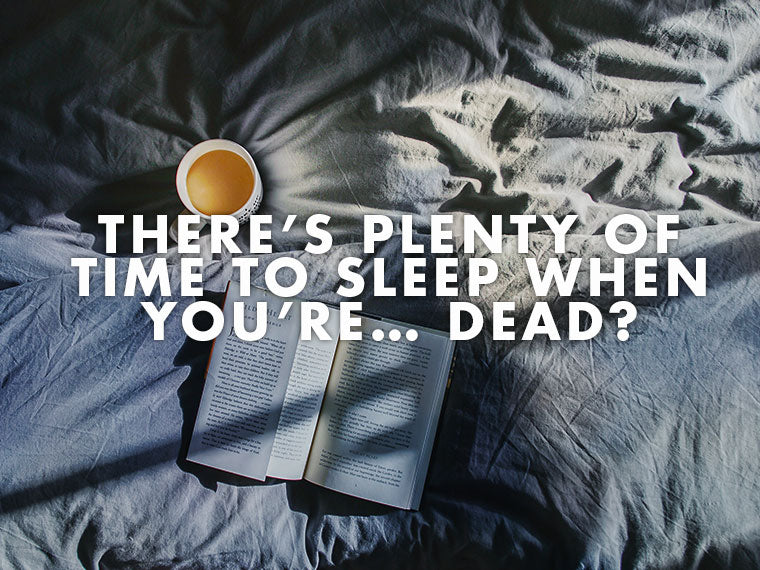 Sleep really is one massive topic to write about. There were oh so many ways I felt I could propel myself into the musings of such an enjoyable… peaceful… comfortable activity.
I'm already finding that I may need to insert my caffeine IV just to get me through this piece of writing, I think of my bed and my body goes into slumber mode. Oh, how I love time spent in my favourite place…
Can you see what I mean? Staying awake and alert to write this blog may prove a mission. Alas! I'm here to squash some of the many myths of sleep, to consider the importance of good sleep and conversely, what happens when we just aren't getting enough.
First off, I'm sure that many of you can relate? I juggle many roles; the manager, the mother, the wife, the sister, the daughter, the friend, the aunty-you get my drift.
Sleep is something I have missed out on A LOT over the past 12 years. My husband likes to play this fun game where he reminds me that hours I have lost, I will never get back. Isn't he a gem?
Let's face it, not many of us stay awake when we are exhausted because we find it a favourite past time activity. Zombie mum isn't something that we aspire to when we find out that we are going to be blessed with the gift of children. Stressed out, crazy busy boss lady is also not an aspirational role in the workplace. We need sleep, no matter what our roles or activity levels and it's not fun when we don't get enough.
So, what can a lack of beauty sleep do to you and is napping OK?
We all know from experience that short term memory and irritability are some of the more common side effects of a disrupted sleep pattern, but did you know that a lack of sleep can also increase our sensitivity to pain, heighten our risk of developing type 2 diabetes (even if you're in a good weight range) and, because a lack of sleep disrupts our normal genetic activity this accounts for our pitiful immune and stress responses when we haven't had enough.
Research has even found that after just 1 week of sleeping less than 6 hours per night, it was discovered that more than 700 genes were behaving strangely. No wonder it can feel as though our body wants to go into hibernation mode when we're tired! Our body is all over the show.
I don't know why some people are so anti nap time, most animals nap and most of them are doing pretty well at staying alive and kicking. Kids nap, and older people nap – so why can't the rest of us?
A short nap anywhere between 15-30 can provide us with a great boost in mood, alertness and performance. If old Albert Einstein loved his afternoon power naps, that must tell us something right? The consensus is YAY for naps that are short and not too close to bed time.
How many hours do we really need? Why is it so important? Can we not just yoga our way to happiness?
We could view time spent in bed catching our z's as time spent processing and repairing our mind and our body. If you've wondered why your memory sucks after an average sleep, it's because you haven't provided your brain with adequate time to sort and file everything it has taken on board during the day.
Did you just picture a wee brain with arms and a filing system? Same! We also give our brain the chance to be like, "Hmmm, lets unpack the emotions I experienced today and start to make sense of them". How helpful is that?! No wonder we can turn into emotional wrecks when we're knackered.
Research tells us that just one night of sleep deprivation can also increase our negative emotional responses by a whopping 60%! Good sleep really does allow our everyday systems to stay in check and to operate efficiently.
And in regard to hours, we get drilled into us "make sure you get between 7-9". However! Some factors can mean that we only really need about 5, or as much as 10, and one of these factors is actually genetic. Pretty interesting huh!
The most important way to manage your sleep is to listen to your body and note when it needs to rest. You are your own expert so draw on the clues from your body and your mind.
Good old science has managed to disprove the old wife's tales that:
To get to sleep you must stay in bed and count sheep. You shouldn't!  You should get up and break that association between bed and "this is my magical thinking space to re hash everything about my day"
Every hour before midnight is worth twice those that you rack up after midnight. This is mostly false. The first third of the night brings with it the deepest part of our sleep, which is not surprisingly the most restorative. But, really this only tells us that the start of sleep is most important, and the start of sleep can happen at any hour of the day depending on our schedule so let's not take that statement as being so black and white.
Good sleepers don't wake – actually its normal to wake throughout the night and to not even be aware of this. Bam!
The biggest advice I can give you after my years working in mental health is to get up out of bed if you're laying there not sleeping.
Bed isn't the space for worrying or planning. Bed is for bed stuff. The more time you spend in bed thinking, the more your brain cements that association which means that it's likely to keep pairing the two together. Not so fun, or helpful.
Get up after 20 minutes and read (not on a screen), have a shower, make a milo or write. Then after 10 minutes or so, go back and try again and then keep repeating as necessary. It can prove hard for a start, but it becomes much easier and quicker over time. You're effectively saying to your brain, "this is not the time to be stressing about Carol at work and the toffee nut frappe I had for lunch – bed is for sleep".
Have a wee check in with your sleeping pattern and note how your body is responding. This way you can see how well its currently working for you, and what changes you might to need to make.
Vic x
About Victoria Hood
Victoria has been working in the mental health and addiction field over the past 7 years since leaving University with an honours degree in Psychology. During her time spent working in addiction, Victoria was introduced to the practice of mindfulness. Since this time Victoria has become extremely passionate about incorporating mindfulness into both her professional and her family life.
Victoria has an honours degree in Psychology from the University of Canterbury. She is a Life Coach, Mindfulness Coach, Mindfulness Practitioner in schools and is a passionate holistic health and well-being advocate and facilitator of mindfulness based workshops.
More about Victoria…