Am I Suffering from Anxiety and Not Even Know It?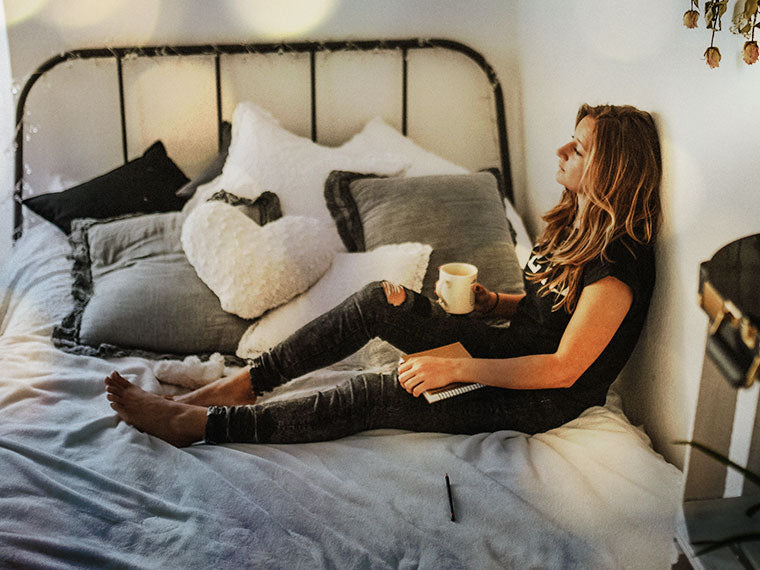 There's a term used in FACT (focussed acceptance and commitment therapy), which states that the diagnosis is the distraction.
I quite like this because it moves away from the medical model which can sometimes suffocate the air in a GP practice. If we can move away from anxiety being called anxiety and refer to it as the effect that it is having on us, not only is it easier to work with but it's also easier to acknowledge.
For some people, the act of saying out loud "I struggle with anxiety" can be all-encompassing. The worry about what others may or may not think can drive anxiety underground and bring about unnecessary self-stigma.
Having worked with hundreds of people who struggle with anxiety and depression. It can be incredibly debilitating and affect the quality of life to such an extent that loss, anger, panic and worry become something the people expect. It can come on at times that don't make sense and cause feelings and thoughts that don't add up. It might make you feel like you're losing control or that you're weak.
Dr Bruce Arroll, a Professor at Auckland University and FACT Practitioner, likes to use the term "stuck" to describe the patients that he sees who struggle with anxiety and/or depression. By saying that you're feeling stuck you're essentially outpouring to something that something is not working as it needs to be and that you need support.
The act of saying to someone "I feel stuck" opens up the conversation that you need to have with to express how you are feeling. It can be much easier than saying "I have an anxiety disorder".
"I feel uneasy"
"My heart has been feeling fluttery"
"I feel jumpy"
"I feel overwhelmed"
"I feel like my heart is in my throat"
"I'm always snapping at the kids, even when it's just little things and then I feel really bad but I keep doing it"
"I get really angry really quickly, my breathing gets fast and I feel like I'm going to lose control"
"I feel like I'm losing the plot"
"I don't know what's wrong with me"
"I can't go to the supermarket-I don't know why"
"I freak out when I see someone that I know when I'm out"
"I feel sick when I have to go to school to pick up my kid"
"I don't know what to do when my girlfriends want to meet up for a coffee. Sometimes I say yes but then always cancel at the last minute. I'd just rather stay home"
"I just wake up in the mornings to start my day and I feel sick"
"My muscles often feel stiff and sore"
"I get all shaky and sweaty and feel like I can't breathe"
"I worry that I'm going to get so nervous that I'll pass out"
"There are things that I worry about that I can't get out of my head and I can't stop thinking about if they might happen or not"
"I cry way more than I have ever had"
These are some of the ways that women will come into the service and begin to talk about how they're feeling.
Often they don't know what anxiety is, they're heard the term before but don't know the specifics. They think that because their GP suggested a medication that they must be crazy. Really, they just want to understand what their body is up to. They want to know that what they're experiencing has been experienced by someone else and that there are ways that they can manage it.
And to note – sometimes we know deep down that what we are experiencing isn't unique to us but it takes someone point blank telling this to our face for us to actually register that this is true. Never dismiss the value in a well done therapeutic conversation.
Just like when you get a cold compared to when someone else you know comes down with one. Your presentation won't be 100% identical to theirs. Its course will differ, along with the symptoms.
How you manage it will look different and your likelihood of catching one again will also be different. Your experience of anxiety will be 100% individual to you. Some of your symptoms might look the same as someone else you know or have heard about but it won't look identical.
What you need to remember is that what you are feeling is OK and it is valid.
So when you go and talk with someone about your feelings of stuckness talk about all of those "little bits" that make up the big picture. Relay every area of your life that it is affecting you and talk about how things look different to how they used to be.
This will really help with painting a picture of what you need today to look after you. Talk about what your body is doing, talk about the thoughts that are swarming around when you start to feel stuck.
Anxiety is not something to face alone.
Thankfully we have access to many more resources than we did 10 years ago. Some great websites are depression.org.nz and anxietybc.com. Start there and then branch out. Overwhelm can bring about more feelings of being stuck so stick to the basics and then once you've become familiar with them navigate from there.
So, what do you need to take on board today, to know if you need to talk to someone about how you're feeling?
If your mood has changed (others may be commenting on it or you may know it yourself that things are different), it doesn't seem to take much to make you feel low/worried or angry, your heart seems to beat out of time and you sometimes need to stop and catch your breath and it just doesn't feel right, you're avoiding things you used to enjoy doing or used to be able to do with ease (like going to the supermarket or meeting friends for coffee) or, you suffer from physical complaints such as a sore tummy, you feel nauseous or often have butterfly's and feel tense.
Tension can be held anywhere in your body, and it's interesting because a lot of the time you can hold tension without even realising it until it really starts to hurt.
Do you feel as though you're trying to breathe through a straw which can bring on a feeling of lightheadedness and sometimes as though you're going to pass out? And then, have your sleeping or eating patterns changed? If you've answered yes to some of these I would highly recommend talking to either a good friend or a family member.
Let them help you to access some support from either a GP, a counsellor, support worker, psychologist or another trained therapist. What you're experiencing is OK and can become unstuck.
Vic x
About Eugenia Nikiforow
Victoria has been working in the mental health and addiction field over the past 7 years since leaving University with an honours degree in Psychology. During her time spent working in addiction, Victoria was introduced to the practice of mindfulness. Since this time Victoria has become extremely passionate about incorporating mindfulness into both her professional and her family life.
Victoria has an honours degree in Psychology from the University of Canterbury. She is a Life Coach, Mindfulness Coach, Mindfulness Practitioner in schools and is a passionate holistic health and well-being advocate and facilitator of mindfulness based workshops