Meditation Made Easy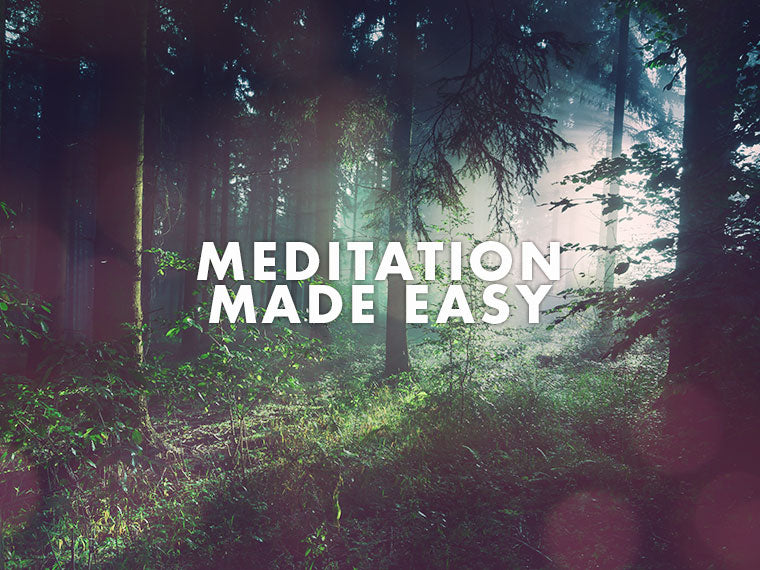 Chances are you have recently looked at a celebrity, work colleague or fellow parent and wondered how the heck they always appear happy and together.
Many of the most successful and "put together" people you will meet regularly MEDITATE . It's no longer considered a practice only adhered to by monks, but rather a scientifically proven way to look after your well-being.
However, all too often meditation gets a bad rap. It's either accused of being solely a religious practice or something that only "hippies" involve themselves in. As much as I wish that I was introduced to meditation at University, I was only made aware of its benefits when I landed my first role in addiction. At the time I scoffed at the notion that by taking time out I bought myself more time. I was pregnant with number three and working full time in two different roles. Time was something I didn't have much of.
It was only after I started to notice its benefits that I quickly became a convert.
Over the past two years I have been travelling New Zealand and sharing my knowledge of mindfulness and meditation with the aim of demystifying the practices. Meditation is something that everyone can do as long as it is prioritised. There is no need to crank out the incense and the candles. You don't necessarily require a quiet space, free from distractions (these things can be helpful, but they're not necessary).
The aim of meditation is not to practice for an hour at a time, in the lotus position and chanting "oooooohhmm" (again-these things you can do), nor is it to create a mind void of all thought.
The aim of meditation is to practice what I like to call "coming back".
Coming back to our breath, back to what's important and back to the thoughts that serve us well. When we meditate we flex our "coming back" muscle so that the more our attention is carried away by thoughts that don't serve us, the more we practice "coming back" to ourselves, back to our breath, back to what's most important.
I like to imagine pulling in the reigns of a wild horse, with the wild horse being our wayward thoughts.
Our mind often wanders, this is its nature. It is not something that we need to stop, just something that we can learn to work with a little better. Whenever you notice that your mind has wandered into thoughts that aren't serving you well, come back to your breath . Notice it as it comes in through your nose, and the sensations as it passes through your mouth.
Come back as often as you need to, your breath is always there, always ready to bring you back to the here and the now-where you need to be.
I'm going to outline a simple meditation method that you can employ no matter where you are.
A method that will bring you contentment and perhaps a little bit of sanity into your chaotic day to day routine. In a world bustling with technology, increased demands and a dramatic spike in availability, meditation can be a much-needed source of peace and quiet.
The method I like to promote is a meditation where we follow the breath and we allow it to find a rhythm that serves our body and our mind. It is incredibly helpful for getting to sleep and for managing those anxiety pangs that like to rear their ugly head when they're really just not wanted.
Meditation Exercise
Assuming a respectful stance, we sit tall, allowing the crown of our head to mirror the ceiling and tucking our chin in slightly. Closing our eyes if this feels comfortable, we bring all our attention to our breath.
Breathing in for 4 seconds, holding for 7 and then breathing out for 8 seconds. It can take a few rounds of this for it to become comfortable and for it to be done with ease, but once we settle in, it is such a beautiful and nourishing space.
GUIDED MEDITATION
Here is a free guided meditation for you to listen to and enjoy.
I encourage you to explore the benefits of meditation in your daily life, especially if you feel as though you are too busy for it. It is these times when we need meditation the most. Incorporate your 4-7-8 breathing into your day and pay attention to how it effects your mind and your body.
Metta,
Vic x
About Victoria Hood
Victoria has been working in the mental health and addiction field over the past 7 years since leaving University with an honours degree in Psychology. During her time spent working in addiction,  Victoria was introduced to the practice of mindfulness. Since this time Victoria has become extremely passionate about incorporating mindfulness into both her professional and her family life.
Victoria has an honours degree in Psychology from the University of Canterbury. She is a Life Coach, Mindfulness Coach, Mindfulness Practitioner in schools and is a passionate holistic health and well-being advocate and facilitator of mindfulness based workshops. 
1 comment