What's Your Why?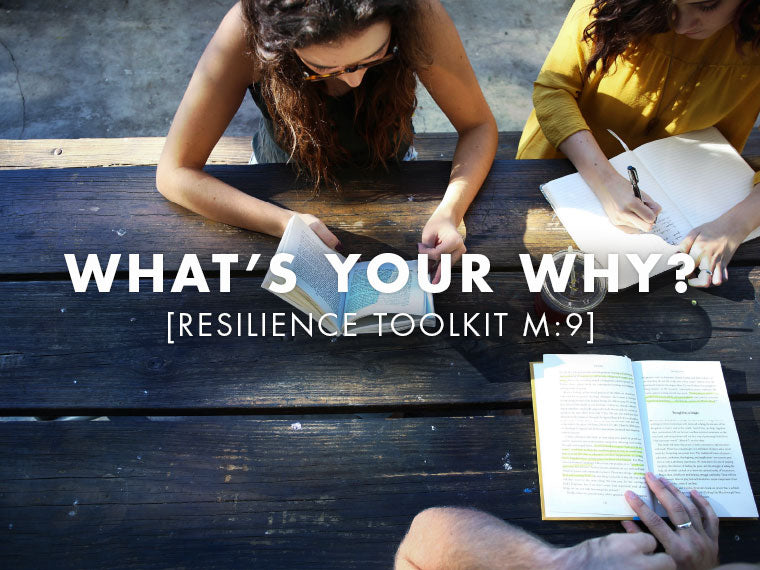 Why do you do what you do? What made you choose your job? Your hobbies? Your friends? The charities or causes you support with your time and money? Do you know? Does it even matter?
YES! A really, really, big YES!
Because when those choices, or the consequences of those choices, don't match our values and beliefs we often end up feeling dissatisfied, discontent, restless at best and tired, angry, anxious, and outright unhappy at worst.
Conversely, when you get the choices right. When what we do for a job, in our spare time, the friends we spend time with – when they match our own values – we feel satisfied, content, and at best energised and straight up happy.
Ever got the better paid job that was going to solve all your financial woes and ended up hating it?
Ever worked with a particular group of people and loved every second of it?
Those are the kind of decisions I'm talking about.
In Module 9: Contribution of The Resilience Toolkit eCourse we are talking about finding your passion and what gives your life meaning, we have a great technique for helping you figure this out. 
Helping people find their 'why' is totally my why!
Get Module 9 Here
Thanks AwesoMEers. I am so passionate about this month's topic so please go and check it out!
Next month is another topic I love – mindsets. These are so, so important! And can be incredibly powerful for children and young people especially.
See you then,
Juliet
---
Get the complete 12 Module eCourse…
At AwesoME Inc we have created The Resilience Toolkit eCourse and are currently releasing one module per month direct to you. Starting in January we introduced to you our Resilience Toolkit with Module 1: an Introduction, in which I asked you to do a resilience stock-take. If you haven't already signed up to receive this FREE Module to begin your journey, you can do so here.
In Module 2, we started focusing on the theme of RELAX, where I show you how to get familiar and regularly practicing two of the easiest and most well researched relaxation techniques – Breathing & Guided Meditation. The RELAX theme is continued in Module 3, with how to calm your mind using Mindfulness and again in Module 4 where we go in depth into the practice of Gratitude.
Next Module 5 introduces you to the theme of MOVE with Move Fast and continued in Module 6 with Move Slow.
Our next theme of ENGAGE started with Module 7: Social Connection where we learnt how to build on our social connected-ness and Module 8: Communicate, shows us how we can communicate effectively and positively with others. Our latest installment completes this theme with Module 9: Contribution where we show you how to find your passion and what gives your life meaning.
For more information about The Resilience Toolkit eCourse click on the below.
The Resilience Toolkit eCourse
About Juliet Battersby
Juliet Battersby is a registered Educational Psychologist who has worked in special education with the Ministry of Education, with serving personnel and their families in the New Zealand Defence Force (NZDF), and assessing children's cognitive and academic functioning in private practice.
Juliet has an MA(Hons) endorsed in Clinical Psychology and a Post Graduate Diploma in Educational Psychology. She is a registered Educational Psychologist with the New Zealand Psychologists Board.
More about Juliet…