How To Look After YOU At Work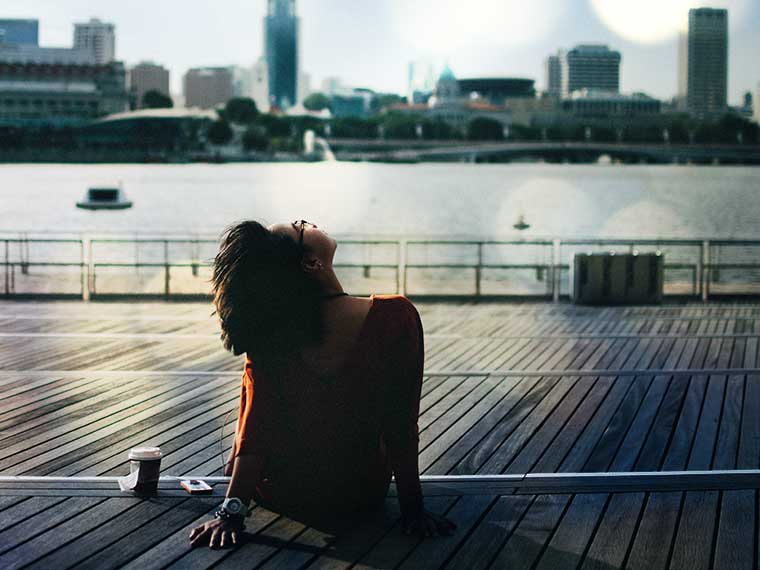 We spend a lot of time there so it's pretty important that while we hang out at work, we're also looking after us.
It can take as little as creating prompts and actively slowing down, but you will notice that incorporating these small changes into your day can massively support your well-being at work. Take note of which changes you think you could make to your working day and then note them down while reading this with a good cup of coffee…
The Juggle
I know that multitasking can make you feel more productive but does it actually help you to get your stuff done any quicker?
There has been a mass number of studies conducted in this area and they generally come back with a big fat no. Your poor wee brain struggles to keep up with numerous demands and the switch between different tasks means that it can take up to 12 minutes for our attention to get back to the task at hand. If you're going between 5 tasks are you ever fully immersed in any one of them?
Having a really good planner has helped to me stay on task immensely. Just stick with one task and then move to numero deux.
Now let's talk about social media distractions. For me, I just had to delete Facebook off my phone. If keeping check of where your time in your day goes is really important to you, there's an app that helps you track how much screen time you clock up over the course of the day.
You can also think about switching over the flight mode or do not disturb during times when you really don't want to be distracted.
The Creativity Buzz
No matter what your role, you need to be somewhat creative with how you do things.
Fun fact, we're incapable of being creative when we're on autopilot. If I was to ask you how much time you believe you spend in your head per day, what would be your first thought?
Most people I talk with about this acknowledge that they spend a massive whack of time living up in their thoughts, worrying about this, that and whatever, to do lists and daydreams. Some of this "head work" is helpful – a lot of it is not.
Harvard reckons that we spend almost half of our awake hours up in our thoughts. If this is an area you would like to address you can use cues around you to help with staying on task. Wee notes or screensaver reminders on your computer are a great place to start.
Pause, Breathe
Regular pauses support us to rebalance our nervous system, which effectively tones down our flight or flight response. This means that we can use our "wise" mind to launch forward and make appropriate decisions as opposed to just jumping at the slightest annoyance from a colleague…and we all know how often in the work day this happens.
What I find is helpful is imagining that my feet are stuck to the floor and just noticing that feeling of being connected and I also make time (actually it really doesn't even take any more time), to take a longer breath before responding to something asked of me.
You can also download an app that has a bell which you can set to go off at regular intervals. That wee "ding" every now and again throughout your working day reminds you to stop and be present.
Go Slow Mo
I can remember when my mindfulness journey started and I was introduced to mindful walking as a way to slow down and be mindful. Initially it was ridiculously painful and I really struggled. I figured I looked somewhat strange walking backwards and forwards on the lawn outside our addiction office. It was however, a great way for me to learn to slow the hell down.
Nowadays, I try and bring that sense of slow to walking around the building or engaging in specific tasks. I actively turn myself onto slow mo and engage in things like a snail. Just for a little. I find that it helps me to get out of the rat race in my head and what's going on around me and it really helps my breathing. I also like to mentally put tasks into boxes (similar to how they are laid out in my planner) and go one step, one step, one step.
Moving Away From
Break times – how do they work for you?
Do they support you to get through your morning or pick up after the "afternoon slump"? Conversely, do you often prioritise work over stopping for a pause in your day, because jeez you're just so busy you couldn't afford to stop?
Do you need an active break outside rather than a sit down, cup of tea break?
We are all very individual regarding what our body and mind need to be working efficiently and for some of us, the generic break times just don't cut the mustard. If you can roll through 10am but then need an 11am, do that. Or, if you're more of a 2pm breaker than someone that stops at 3, what's stopping you changing things up? Take the time to listen to your body and notice what breaks feel good and when they're needed most. For me, if I don't get outside I go bat shit crazy…
Take Notice
And just to wrap up, it's always important to stop and assess the impact of your thoughts on how you're feeling about your work. Ruminating on tasks that haven't gone as planned only feeds the cycle of negativity and avoidance and it really doesn't lend to a positive working environment.
My mum used to always say to me, "Ya, put it in a bubble and blow it away".
Working full time, we spend more time with our work colleagues than our loved ones, so its really important to pay attention to your thinking around what's going well and not so well and to challenge it where necessary.
It's not often going to be paradise at work but we can make it more enjoyable and more bearable.
Vic x
About Victoria Hood
Victoria has been working in the mental health and addiction field over the past 7 years since leaving University with an honours degree in Psychology. During her time spent working in addiction, Victoria was introduced to the practice of mindfulness. Since this time Victoria has become extremely passionate about incorporating mindfulness into both her professional and her family life.
Victoria has an honours degree in Psychology from the University of Canterbury. She is a Life Coach, Mindfulness Coach, Mindfulness Practitioner in schools and is a passionate holistic health and well-being advocate and facilitator of mindfulness based workshops.