Carbs – Are They Good or Bad?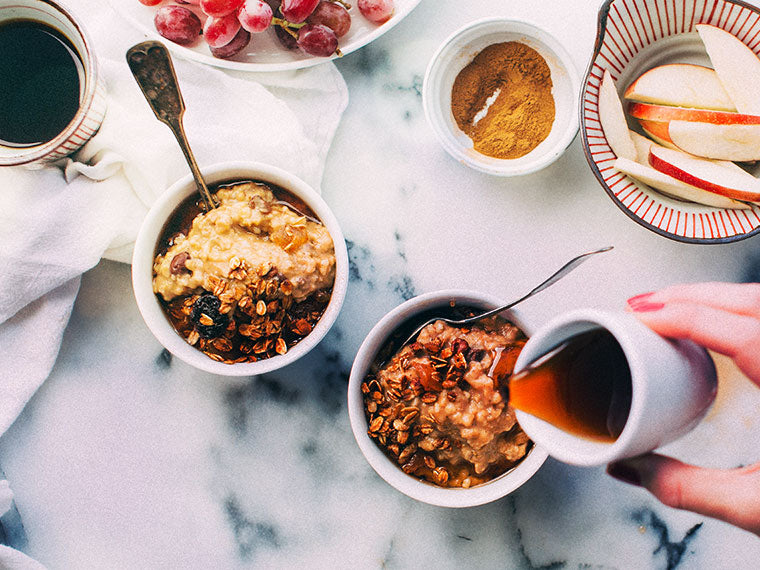 There's a lot of debate in the 'nutrition' world when it comes to carbs. Everywhere you look carbs are branded as either good or bad and if people have weight loss goals they are often (unnecessarily) told to avoid them.
These days it seems carbs are labelled 'bad' more often than good and so what's the deal with carbs? Are they the big bad wolf we're led to believe they are.
Firstly, what are carbs. Are they just potatoes, bread and rice?
Carbs are found in so many foods including dairy products, fruit, vegetables, grains, nuts, legumes, seeds and sugary foods and sweets.
Carbohydrates are made up of three components: FIBER, STARCH & SUGAR
Fiber and starch are complex carbs, while sugar is a simple carb. When it comes to carbs, they all have a place in our diets but nutrient-wise, the more complex the carb is, the more nutrients it contains.
Complex carbs have a variety of nutrients depending on the food and more fibre which can fill us up for longer. These include fruit, vegetables, legumes, whole grains and seeds. Almost all centenarians (those who live past 100) have some level of complex carbohydrate rich foods in their diets.
Simple carbs are sugars. They burn quickly and can leave you hungry and wanting more. Are they bad? Ultimately, no food is bad or good, it's the dose that matters, but they do not have nutrients that our body needs and so I'd classify them as 'soul foods' – think birthday cake or fish'n chips on a Friday.
How many carbs a person needs depends on a couple things. Their body's ability to process them and the amount of energy that they burn in a typical day. The more active you are, the more energy you'll burn and complex carbs can definitely be helpful. Carbs are not classified as 'essential' but they can certainly be beneficial… and tasty! Veggies and fruit are wonderful sources of nutrient dense carbs.
Fact is, there are some people who metabolise carbs better than others depending on everything from genetics to activity levels and so that's why it's so important to work out what works for you rather than just listen to what has worked for someone else. If too many carbs leave you hungry, tired and grumpy, try having less or swapping out for more complex carbs to see if that makes a difference in your energy or hunger. If not, maybe reducing them will help.
Experiment, try some swapsies and listen to what your body tells you.
All in all, try to avoid looking at carbs as simply 'carbs' try to see all the good stuff they can contain as well. Carbs, like all foods, are not black and white and to avoid them completely if they make you feel great, is totally unnecessary.
---

Summertime Oats
This cold version of porridge is just as filling and comforting in the summer months.
Ingredients
½ ripe banana mashed
1 tsp olive oil
1 Tbsp natural peanut butter or almond butter
½ cup rolled oats
1 tsp chia seeds
1 cup almond milk or coconut milk
1 tsp ground cinnamon
1 scoop Nuzest Vanilla Clean Lean Pea Protein or your favourite (optional)
Instructions
Mix all the ingredients in a medium sized jar. Leave in the fridge overnight and enjoy in the morning with your favourite toppings. Some ideas include berries, more sliced banana, sliced apples, plain yogurt or all of the above!
Michelle
About Michelle Yandle
Michelle Yandle is a Health and Nutrition Coach on her way to becoming a Clinical Nutritionist with The Holistic Performance Institute., She is also an international speaker with IISB, successful entrepreneur and two-time author with a focus on traditional diets for health, and nutrition coaching for Empowered Eating™.
Michelle has a bachelor degree from Dalhousie University, Halifax, a graduate degree in education from the University of Maine at Fort Kent, a graduate certificate from the school of Holistic Performance Nutrition and certificates in health and nutrition coaching from the Institute for Integrative Nutrition and Cadence Health in New Zealand.
More about Michelle…