Crowding In [ Gentle Nutrition ]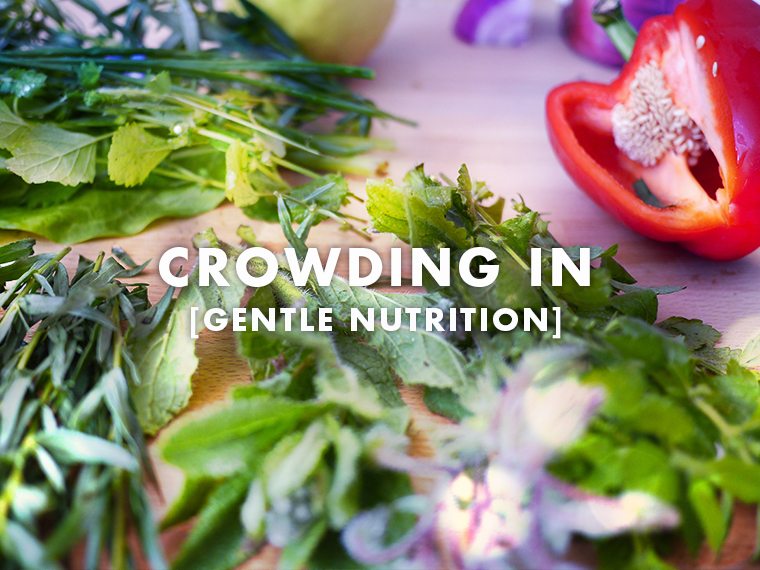 We all have our own personal (and usually quite long) lists of foods that we avoid because of this reason or that.
We're told by both the media and professionals that certain foods are harmful and we need to QUIT them, pronto.
Unfortunately, when we focus on quitting certain foods the same scenario often happens. When we tell someone they can't have something that they love, more often than not, they will begin to crave that food more. This will lead to despair, to eventually giving up and over indulging, which is followed by guilt and shame and the cycle continues. Too often, people are confusing healthy eating with "all or nothing", which ultimately leads to this cycle of restriction/deprivation- surrender then guilt, but it doesn't have to be this way!
What if, we looked at things a bit differently.
What if, instead of thinking of which foods you have to give up,
we start to focus on what nourishing foods we can add in?
Crowding-in is a concept I use frequently in my practice. It simply means changing your focus to getting more of the good stuff rather than putting your attention on cutting out the other foods. Focus on increasing foods that serve us so that eventually there is less room or cravings for the ones that don't. Even if the rest of your diet doesn't completely change – you're still going to get more nutrients and eating more healthy foods, and I believe that eventually you'll begin to change your taste buds and start to crave foods that nourish you.
What does crowding-in look like?
It's is about serving the veggies first at dinner, adding spinach to your scrambled eggs, or drinking a glass of water before reaching for that sweet snack. It's about being creative and asking yourself: "How can I crowd-in more veggies with this meal?" Or "What might oil be better for cooking?"
This approach, which focuses on taking small daily steps and increasing healthy food rather than avoiding indulgences creates a much more positive framework for implementing lasting change and has been shown over and over again to lead to more lasting results with our health goals. When you add in wholesome nutrient-dense ingredients, your health is going to immediately benefit from the extra vitamins, minerals and antioxidants you're consuming and it can be as simple as adding blueberries to your porridge!
Over the next few months I'll be sharing with you tips and tricks for crowding-in more colourful veggies, quality proteins and the healthiest of fats. While we're at it, why not crowd in a little self care as well!?
Focus on the good and you'll attract more of the same. Your body and mind will thank you!
Here's a great summer smoothie that crowds in heaps of the stuff your body loves!
---


Ingredients (Serves 1)
1 cup almond milk

½ cup frozen berries

1 tablespoon ground linseed

1 tablespoon chia seeds

1 tablespoon raw cacao powder (or cocoa)

1 scoop of vanilla pea protein or your favourite sweet protein powder.

¼ of an avocado
Blend all of the ingredients in a high-speed blender and enjoy!
Michelle
Get the Guide to Gentle Nutrition eBook
Get eBook
Go to next Gentle Nutrition article – The Powerhouse of Nutrition
About Michelle Yandle
Michelle Yandle is a Health and Nutrition Coach on her way to becoming a Clinical Nutritionist with The Holistic Performance Institute., She is also an international speaker with IISB, successful entrepreneur and two-time author with a focus on traditional diets for health, and nutrition coaching for Empowered Eating™.
Michelle has a bachelor degree from Dalhousie University, Halifax, a graduate degree in education from the University of Maine at Fort Kent, a graduate certificate from the school of Holistic Performance Nutrition and certificates in health and nutrition coaching from the Institute for Integrative Nutrition and Cadence Health in New Zealand.

1 comment