Fabulous Fibre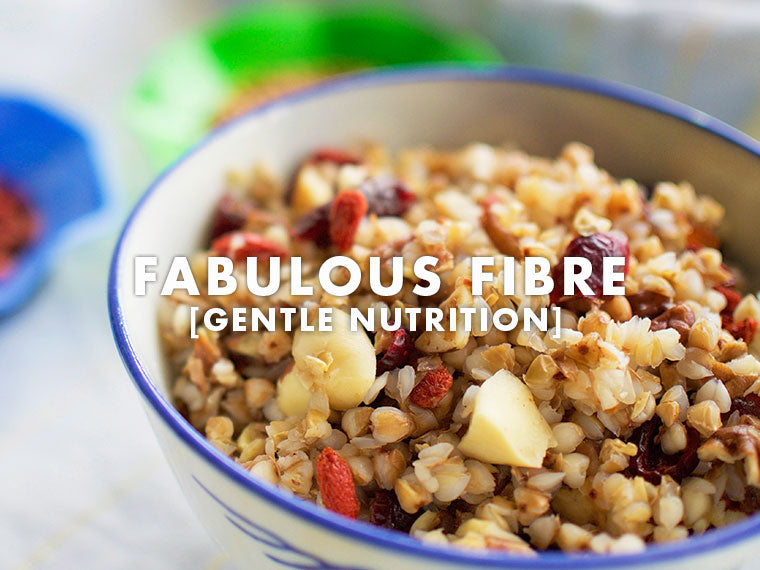 In case you haven't heard, fibre is pretty important. And if there is one thing that most health professionals agree on, it's that we need to make sure we're getting enough.
So what's with fibre? Why is it so important? And how do we get more of the good stuff?
Let's start by looking at the 'what'. Basically, there are two main types of fibre and that's based on their solubility in water.
It's no surprise then that they are referred to "soluble and insoluble fibre".
Within that, there are many different kinds as well as some overlapping amongst the two.
So why should we keep tabs on the amount of fibre we're consuming?
If you're trying to lose weight, or decrease overeating in general, some types of fibre can help by 
keeping you fuller for longer
. Add in some healthy fats and protein and you've got a winning combo for satiety. Try adding some psyllium or flax seeds to your porridge or simply put a tsp. or two of chia seeds into your smoothie to reap the benefits.
Another way that fibre can help support your body in weight loss and/or overall health is by 
feeding the beneficial bacteria
 in the gut. A healthy digestive system is a happy digestive system. Our gut is essentially the hub of the wheel and by keeping it well populated with beneficial bacteria and feeding the critters regularly we can benefit from weight loss, help with blood sugar regulation, immune support and brain function.
Fibre has been shown to 
help regulate blood sugar
 in general if your meal is slightly more carb-loaded and has been beneficial in reducing total cholesterol levels.
Ultimately in all these cases, the type of fibre is important and so the bottom line is to strive to get a variety of different sources throughout your day.
My first go-to sources for fibre are fruits and vegetables. Aiming to have 5+ servings a day of veggies plus a couple servings of fruit is sure to give you a good variety of healthy fibres as well as an abundance of vitamins and minerals. Start there!
Some seeds are very rich sources especially chia seeds, which contain 11g fibre per ounce and flax seeds.
If your diet permits whole grains, these too can be a great source of dietary fibre though less refined is best. My favourite sources include oats, sourdough bread and buckwheat.
If you're able to digest them effectively, beans and legumes can also be a great source of fibre. Lentils, chickpeas, beans of all sorts can be added to stews, sauces and salads as a great addition to a healthy diet.
If all you did was increase your veggies (see my tips here) and enjoy a variety of fruits and seeds you'd be making great big steps in the right direction.
Your gut and your overall health will thank you!
Michelle
Ingredients
1 cup unsweetened coconut or almond milk
1 tsp. pure vanilla extract
1 small green banana (I know it looks like it's not ready – but is a good source of resistant starch).
¼ avocado
½ tsp. cardamom powder
1 Tbsp. chia seeds
1 handful of spinach
1 scoop vanilla Nuzest Clean Lean Protein (optional)
Instructions
Blend with ice and enjoy.
Get a discount on your purchase at Nuzest with my discount code: MYANDLE
Get the Guide to Gentle Nutrition eBook
About Michelle Yandle
Michelle Yandle is a Health and Nutrition Coach on her way to becoming a Clinical Nutritionist with The Holistic Performance Institute., She is also an international speaker with IISB, successful entrepreneur and two-time author with a focus on traditional diets for health, and nutrition coaching for Empowered Eating™.
Michelle has a bachelor degree from Dalhousie University, Halifax, a graduate degree in education from the University of Maine at Fort Kent, and also holds certificates in health and nutrition coaching through the school of Holistic Performance Nutrition, the Institute for Integrative Nutrition and Cadence Health in New Zealand. 
More about Michelle…