Oh! Avocado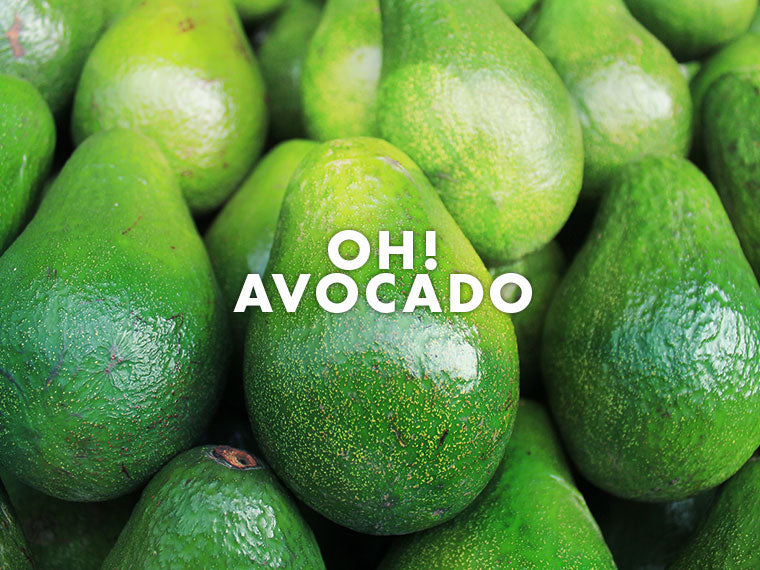 If you're like me, the start of the avocado season is a very happy time indeed! Avocados are not only healthy but extremely versatile when it comes to healthy eating.
From pudding to dips I've seen avocado used in just about everything and that's a good thing! Not only are the fats in avos not to be feared but with all the other health benefits they should be embraced as part of our every day diet.
Firstly, no need for powders and tinctures – avocados are the ultimate superfoods! They contain over 20 vitamins and minerals including magnesium, folate, potassium (more than bananas) and vitamins K, B6, E and C ! This makes them great for everything from skin health to energy.
Don't fear the fat!
Avos contain healthy mono and polyunsaturated fats which can not only help increase the 'good' LDL cholesterol but reduce HDL cholesterol as well. These healthy fats also naturally increase the absorption of fat-soluble vitamins in other vegetables when eaten alongside them.
Avocados are also good sources of fibre and that, combined with those great fats mean that when added to a meal or eaten on their own, they can keep us fuller for longer and I don't know about you – but I don't have time to be snacking all day long!
When it comes to culinary perks. There are so many ways avocados can take your meal to the next level. I love the creaminess that they can give to smoothies, puddings, and as a replacement for those who might not be able to have dairy.
Not only that, but avocado oil is a great option for cooking as, like coconut oil and some other fats, it has a very high smoke point.
There are so many ways in which I incorporate avocados into my daily diet. Some of my favourites are as follows:
SMOOTHIES. I know, you're sceptical, but try it! Adding avocado to your smoothie will take a regular smoothie and turn it into a much more filling and creamy treat. Now that I've started adding avocados to my smoothies I can never go back! They really do make them 'next-level' for texture and satiety. Avocado oil is also delicious in your smoothie and a great way to ensure that you're absorbing all the nutrients your smoothie has to offer.
NO-MAYO. If you can't have mayonnaise for whatever reason, avocados are an amazing alternative. I have used it in place of mayo in potato salads, toast, in deviled eggs, on sandwiches and in dips. It's creamy, nutritious and the perfect solution.
GUACAMOLE. This is hands down my absolute favourite and so easy to make. Just smash some avocado and add garlic lemon and sea salt and you've got the ultimate dip for tortilla chips, kumara chips or even to spread on crackers. It's amazing on burgers too.
PUDDING. Chocolate avocado pudding is the ultimate when you're craving chocolate. It's creamy, rich, decadent and delicious. I've been known to even have it for breakfast topped with a bit of Greek yoghurt and muesli. See my recipe below.
BAKING. There are so many recipes out there for avocado brownies, fudge and even cheesecakes. The opportunities are absolutely endless!
Honestly, there are so many ways to enjoy avocados, but simply having them on their own with a bit of soy sauce or sea salt can sometimes be all you need to get their goodness in. Enjoy the avocado season! I know I will.
---
Some of my favourite avocado recipes:
Carrot Spice Raw Soup
Serves 2
Ingredients
4 carrots
2 avocados (reserve 1/2 for the topping)
1 teaspoon ginger
1/2 teaspoon cinnamon
1/4 teaspoon sea salt
Dash of red pepper flakes
2 cups water or coconut milk
Instructions
Add all the ingredients in a blender and blend well. Top with chopped avocado. You could also add raw coconut cream, coconut milk kefir, or coconut yoghurt to the toppings. Serve cold (great for summer).
---
Super Stuffed Avocado
Serves 1-2
Ingredients
1 avocado, remove from skin ( but leave intact)
½ cup celery, chopped
juice of 1 lime
sea salt, to taste
1 teaspoon parsley, chopped
1 tablespoon sunflower seeds
Instructions
Take out the filling of the avocado and mash. Add celery, lime juice and sea salt to the mashed avocado. Place mixture back in the avocado skin and serve topped with parsley and sunflower seeds.
*Add a Tbsp of sauerkraut for extra bonus points!
---

Chocolate Breakfast Pudding
Serves 2
Ingredients
1 avocado
1/2 cup almond or coconut milk
3 tablespoons raw cacao powder
1 scoop of your favourite sweetened protein powder
1 teaspoon vanilla extract
Toppings:
Drizzled peanut butter
Muesli
Coconut or Greek yogurt
Instructions
Blend the ingredients until creamy. Serve cold.
Michelle
About Michelle Yandle
Michelle Yandle is a Health and Nutrition Coach on her way to becoming a Clinical Nutritionist with The Holistic Performance Institute., She is also an international speaker with IISB, successful entrepreneur and two-time author with a focus on traditional diets for health, and nutrition coaching for Empowered Eating™.
Michelle has a bachelor degree from Dalhousie University, Halifax, a graduate degree in education from the University of Maine at Fort Kent, a graduate certificate from the school of Holistic Performance Nutrition and certificates in health and nutrition coaching from the Institute for Integrative Nutrition and Cadence Health in New Zealand.
More about Michelle…