Be Mindful of The Little Guys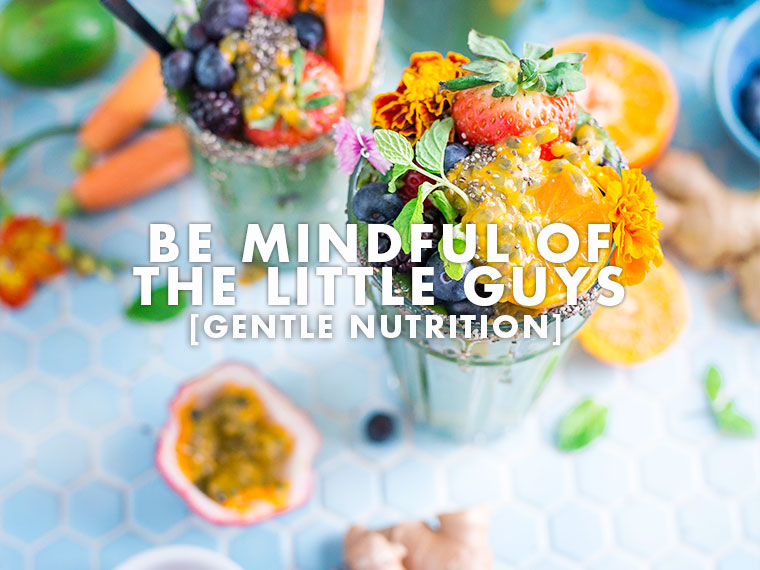 The foundation of "Gentle Nutrition" is understanding that our bodies need certain nutrients to function optimally but is also about being able to balance foods that may not be so nutrient dense without guilt, shame or anxiety.
We've looked at how to crowd in our essential macronutrients; protein and fat. We've bulked up on fibre and slow burning carbs and kept our bellies happy with probiotics. But what about the other little guys, those nutrients that are so small yet so vital to human health?
MICRONUTRIENTS
 are the vitamins and minerals that our bodies need to keep us feeling happy and healthy. Unlike macronutrients you only need a teeny tiny amount to maintain good health and yet despite that, we find ourselves frequently deficient.
There are fat-soluble vitamins such as Vitamins A, D, E and K. and water soluble vitamins including the B vitamins and vitamin C. There are also minerals such as magnesium, iron, calcium and potassium. All of which are needed to keep you feeling your best.
Deficiencies can have lasting effects on our health in both children and adults and so it's important to pay attention to our bodies and its warning signals when you're not feeling your best.
Governments have recognised the importance of these nutrients and created synthetic supplementation for everything from milk to cereals to orange juice. But are these synthetic vitamins really providing our bodies with the little guys we need?
In most cases, nutrients from whole foods should be our first choice. Whether these be plant based supplements or making sure to get a balanced diet with plenty of colourful vegetables and a variety of protein, fat and carb sources.
Some of my favourite nutrient-dense foods include:
KALE: Jam-packed with an abundance of Vitamin C, Vitamin A, Vitamin K1 and Vitamins B6, Potassium, calcium, magnesium, copper and manganese! Plus there's plenty of fibre as well.
GARLIC: Tastes amazing and is also full of Vitamins C, B1 and B6, Calcium, Potassium, Copper, Manganese and Selenium.
SHELL-FISH: Clams are one of the best sources of B12 on the planet as well as Vitamins C, B-vitamins, Potassium, Selenium and Iron. Oysters also have an abundance of nutrients including zinc.
POTATOES: Surprised? Potatoes actually have a little bit of almost every nutrient we need as well as being incredibly satiating. If you cool potatoes and then reheat or eat cold the next day you've also got a powerful source of resistant starch.
EGGS: I like to refer to eggs as nature's multi-vitamin and most of the vitamins are found in the yolk. They also have healthy fats proteins and are cheap, versatile and taste amazing.
There are so many nutrient-abundant natural foods being grown and raised here in New Zealand but sometimes a good multi-vitamin can be an insurance policy to fill any gaps.
When looking for a multi-vitamin there are a few things you should look for when reading the label:
Check that your supplement uses a ready to use folate rather than synthetic folic acid. Many of us can't metabolise synthetic folic acid and it has also been linked to tumour growth. It's best to check that it contains natural folate if you want to avoid the risk altogether.
I also prefer natural sources of calcium from algae (if vegan/vegetarian) or natural dairy based sources rather than the lab-produced calcium citrate, carbonate and phosphate used in common multi-vitamins.
When it comes to B-12 (which is essential for brain health and a common deficiency in vegans and vegetarians) you want to look for a form that is already pre-converted and usable by your body. Most supplements use the common cyanocobalamin which is fine if your diet is perfect, stress is non existent and toxins don't exist. For the rest of us, methylcobalamin is the one you want to look for, it's already converted for you so your body can use it more efficiently.
Same with Vitamin A, beta carotene can be difficult too for the body to convert in most cases and so look for a pre-formed retinyl palmitate instead.
There are some great companies out there that are using these more easily absorbed sources of vitamins and minerals. My personal favourite is Nuzest New Zealand's Good Green Stuff which has all of the above and much more.
As a general guideline, always choose food first but sometimes a quality food-based supplement or something equally as good is a healthy addition to your diet.
Get a discount on your purchase at Nuzest with my discount code: MYANDLE
Ingredients
1 cup frozen blueberries
1 cup coconut milk
1 Tbsp coconut oil or MCT oil (optional)
1 Tbsp ground linseeds
1 handful of kale (discard the stems)
1 splash of vanilla extract
1 pinch of cinnamon
1 Tbsp raw honey or a drop of stevia
Instructions
Combine in a high speed blender and enjoy.
**Vanilla Clean Lean Protein is another great addition to this smoothie if you'd like something a bit more filling.
Michelle
About Michelle Yandle
Michelle Yandle is a Health and Nutrition Coach on her way to becoming a Clinical Nutritionist with The Holistic Performance Institute., She is also an international speaker with IISB, successful entrepreneur and two-time author with a focus on traditional diets for health, and nutrition coaching for Empowered Eating™.
Michelle has a bachelor degree from Dalhousie University, Halifax, a graduate degree in education from the University of Maine at Fort Kent, and also holds certificates in health and nutrition coaching through the school of Holistic Performance Nutrition, the Institute for Integrative Nutrition and Cadence Health in New Zealand. 
More about Michelle…