What is Resilience?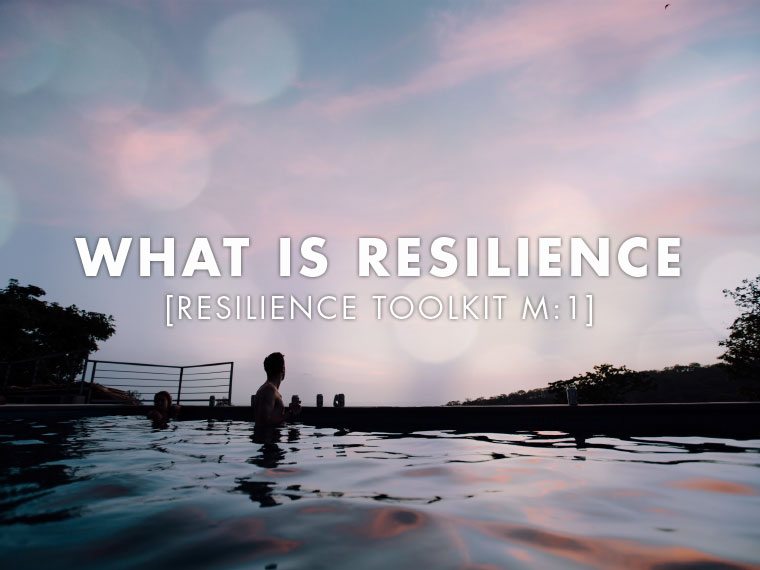 Happy 2017 and Happy Year of Resilience!
As I mentioned in my last post I am honoured to be teaming up with Nicky and Bex this year to share with you some insider knowledge about resilience and how to build it.
Over the coming months we will be rolling out a fabulous resilience programme that's easy to follow and based on the best psychology research out there at the moment. We'll look at the physical and mental benefits of relaxation, exercise, social connections, and personal development and we'll put these into practice. Win!
This being the first month I thought the best place to start was by making sure we are all on the same page about what resilience is and by doing a resilience stock take.
---
There are two ways to think about resilience:
to be so strong that absolutely nothing bad ever penetrates, or

to be flexible enough to take the hits, rebound, bounce back.
---
Many of us (myself included at times) think we must be the former. Strong and impenetrable, affected by nothing, able to cope with everything. Lovely in theory but IMPOSSIBLE and when we can't live up to this expectation it's tough. We can be tough on ourselves and start telling ourselves we should be able to cope, we should be better than this, do more, be more, and down we go….
The reality is that unexpected things will happen, we will get tired, we will get stressed, we will get frustrated, we will get sad.
And that's ok. Really it is.
This is where the second idea of resilience comes in, and is what we think of as resilience in the psychology world.
Resilience is having the skills, tools, and resources
(both internal and external) to identify negative emotions,
to accept them, and rebuild.
This year I want to touch on a whole range of these skills, tools and resources. Some may be new to you but many will be things you already do or just seem common sense. That's because most of the time we are resilient. Most of the time we do a good job of getting to school or work, enjoying our friends, spending time with family, walking the dog, and dealing with traffic. It's just when something unexpected happens or the pressure gets turned up that we need some additional support or some help in accessing the support we already have.
---
Where do you start?
Our current support networks are where we are going to start. By using some thought challenging and problem solving techniques from the well-researched and effective solution focused brief therapy (the name pretty much gives away what SFBT is about – it's about quick win problem solving and it's great!) we are going to build a picture of what our resilience toolkits look like now, what we might want them to look like in the future, and how we are going to get there.
Signup to receive our very first FREE eBook below that includes some very helpful worksheets and information on how you can be more supported.
See you next month,
Juliet
---
For more information about A Year of Resilience eCourse click on the button below.
Resilience Toolkit | A Year of Resilience eCourse
About Juliet Battersby
Juliet Battersby is a registered Educational Psychologist who has worked in special education with the Ministry of Education, with serving personnel and their families in the New Zealand Defence Force (NZDF), and assessing children's cognitive and academic functioning in private practice.
Juliet has an MA(Hons) endorsed in Clinical Psychology and a Post Graduate Diploma in Educational Psychology. She is a registered Educational Psychologist with the New Zealand Psychologists Board.