An Introduction to Gentle Nutrition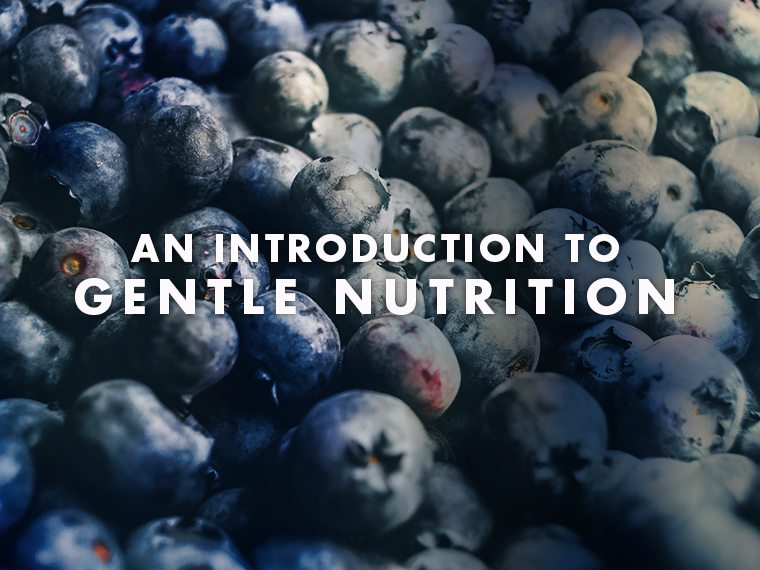 There are so many "rules" out there when it comes to Nutrition. Everywhere you look, people are telling you to stop eating this or start eating that.
They have created so many of these rules that I'm pretty sure there isn't a food on the planet that hasn't been deemed dangerous at some point on the world-wide-web. So what's a person to do?
I believe there should only be one 'rule' and that rule is, when it comes to nutrition, to start from a place of gratitude and self respect. Start by tuning out the dieting dogma and simply turn within. Thank your body for being there for you and ask it what it needs.
Have you ever asked your body what it actually wants?
Have you even asked it if it's hungry before grabbing that biscuit
or questioning what it really needs?
Our bodies are clever entities – they know what they need for energy, for endurance and overall performance. If you take the time to listen to your body's hunger rather than your head you'll find it has a lot of great suggestions.
Have you ever eaten fresh seasonal fruits or vegetables and felt bloated and lethargic? Have you ever had some fresh salmon or other fatty fish and wish you hadn't? Assuming of course, you didn't eat too much! Did that homemade muesli with coconut yogurt make you want to take a nap? Probably not.
Essentially, our body needs macro-nutrients such as fats and protein and micro-nutrients, those little vitamins and minerals that keep everything functioning. Crowd those in as often as possible by simply revolving your meals around fresh produce, good quality natural proteins and all those healthy fats you're giving your body exactly what it wants and needs and THAT is the ultimate way of thanking our body for what it does for us.
Does it need to be strict? Does it need to be 100% of the time?
No way, in fact eating in a way that allows for those occasional 'soul foods' has been shown over and over again to provide far more lasting results.
---
So where do you start?
When it comes to nutrition, think about the foods that make you feel the best physically AND mentally and simply start by getting more of those! Sure there are some foods that make us happy short term but our body doesn't want a short term solution it wants to feel amazing always.
Before eating any meal, I encourage you to tune in and ask your body whether it is actually physically hungry (and not just your head saying – eat that!). Once you've done that, whether you're physically hungry or not, follow up with asking your body what it needs. It may be food, it may be comfort or entertainment. If it's food, let's load up on veggies or fruit first, add some protein and then healthy fats. Do this as often as possible and then relax and enjoy the times in between where you might want something to sooth your soul rather than your physical body.
Today I want to share with you one of those recipes that sooth the body AND soul. These nutrient-dense muffins are moist and chocolaty and those hidden veggies will fool the pickiest of eaters. The recipe also makes a delicious chocolate cake for those special occasions.
Indulge, enjoy and sit back and enjoy the gratitude from your body.
---

Ingredients
2 cups of grated pumpkin*
2 pasture raised eggs
½ cup light tasting olive oil
4 tablespoon maple syrup**
1 teaspoon vanilla extract
¾ cup of good quality cocoa or cacao powder
1 teaspoon baking soda
2 teaspoons baking powder
¼ tsp salt
¼ cup coconut flour
Instructions
Preheat oven to 180C
Lightly beat the eggs and place in a large bowl with the pumpkin, maple syrup, vanilla and oil. Stir to combine.
Next, sift in the cacao, coconut flour, baking soda, baking powder and sea salt.
Stir gently until well combined.
Pour about 1/4 -1/2 cup into muffin tins. I made 8 good sized muffins from the mixture.
Bake until firm to touch (roughly 20 minutes).
*You can also try experimenting with beetroot or kumara
** Any liquid sweetener will do for this recipe. They are also still delicious without any added sweetener.
---
I look forward to writing more posts about what I call 'gentle nutrition', nutrition advice that comes from a place of self love and gratitude and nourishes you from the inside out. With tips and tricks to get more of the good stuff I hope to help guide you on your own health journey.
Michelle
Get the Guide to Gentle Nutrition eBook
Get eBook
Go to next Gentle Nutrition article – Crowding In
About Michelle Yandle
Michelle Yandle is a Health and Nutrition Coach on her way to becoming a Clinical Nutritionist with The Holistic Performance Institute., She is also an international speaker with IISB, successful entrepreneur and two-time author with a focus on traditional diets for health, and nutrition coaching for Empowered Eating™.
Michelle has a bachelor degree from Dalhousie University, Halifax, a graduate degree in education from the University of Maine at Fort Kent, and also holds certificates in health and nutrition coaching through the school of Holistic Performance Nutrition, the Institute for Integrative Nutrition and Cadence Health in New Zealand. 
More about Michelle…