Crowding-in Fats that Fuel [ Gentle Nutrition ]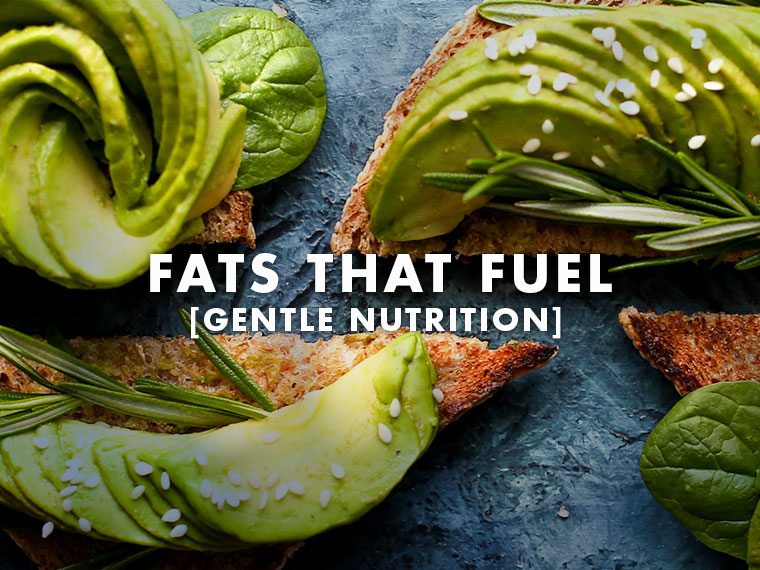 I can vividly remember being a young girl on Weight Watchers happily munching on lollies to my heart's content because they were fat-free.
Times have certainly changed, and while I don't believe that sugar needs to be our next scapegoat, it's important that we realise that fat is back, and is super important for healthy bodies.
Personally, I think a lot of the fat fears stemmed from an increase in processed foods and take-aways. Those types of fats are an entirely different story than the ones that nature produces. People began consuming unimaginable quantities of heavily processed fats in various forms, and like most things, too much of any food can lead to concerns.
Meanwhile, there are some fats that our bodies need and that we should consider crowding-in to our daily routine. These fats are great for our brain, our hair, nails, skin and overall health. They are vital to every single cell in our body as well as being crucial for the absorption of Vitamins A, D, E and K.
There are several different types of fats available to us:
Saturated Fat:Mainly from animal sources such as meat, butter, etc., but also in coconut oil (though it's a medium-chain fatty acid).
Trans fats: While they occur naturally in some foods in small amounts they are more commonly seen in highly processed foods.
Monounsaturated fats: Such as olive oil, sesame oil and safflower oil.
Polyunsaturated Fats: Soy oil, corn oil, and sunflower oil are some examples.
Omega 3 are also polyunsaturated fats but are so important I've given them their own category. These include fats from fatty fish and some plants such as flaxseed and chia seeds.
It can all get a bit confusing at times, and so like most things when I comes to nutrition, I like to say – KEEP IT SIMPLE
In general, when it comes to swapping out for better and best choices I like to stick to the ones that are made with the least amount of processing.
Cold pressed oils, natural grass fed butters, moderate amounts of animal fats, nuts seeds and avocados. For those who can tolerate dairy, I suggest full fat dairy, and cheese on occasion rather than the low-fat varieties. Start with all this and you're doing your body a wealth of good. So which fats do I choose most often? I'd say my cupboards are never without olive oil, coconut oil and butter but for those who want to do a bit more experimenting, here are some more favourites.
Cooking
For light sautéing I like to use olive oil, coconut oil, avocado oil, macadamia oil, butter or sesame oil.
For deep frying (which I do very rarely) I generally use coconut oil or duck fat
For drizzling and dressings and smoothies
Hemp oil, olive oil, flax oil, avocado oil and macadamia oil.
I also recommend everyone take a good fish oil supplement if you do not consume fatty fish a minimum of twice per week. —>Read why here
How much fat should we be consuming?
It really depends on the person but ultimately, just because fat is important doesn't mean we should have bucket loads of the stuff. A healthy diet is all about balance, variety and moderation, and like most things, with fats I suggest you get a variety from both plants and animals and pair them up with an abundance of fruits, vegetables and quality proteins.
Ingredients
½ cup olive oil
2 tbsp balsamic or cider vinegar
2 tbsp lemon juice
1 pinch of salt
1 tsp Dijon mustard
Instructions
Place all the ingredients in a small jar and give a good shake. Double up the recipe and keep in the fridge for quick and easy salads.
This is also delicious drizzled over roasted veggies!
Click here for print version of recipe.
Michelle
Get the Guide to Gentle Nutrition eBook
Get eBook
Go to next Gentle Nutrition article – Fabulous Fibre
About Michelle Yandle
Michelle Yandle is a Health and Nutrition Coach on her way to becoming a Clinical Nutritionist with The Holistic Performance Institute., She is also an international speaker with IISB, successful entrepreneur and two-time author with a focus on traditional diets for health, and nutrition coaching for Empowered Eating™.
Michelle has a bachelor degree from Dalhousie University, Halifax, a graduate degree in education from the University of Maine at Fort Kent, a graduate certificate from the school of Holistic Performance Nutrition and certificates in health and nutrition coaching from the Institute for Integrative Nutrition and Cadence Health in New Zealand.