Essential Protein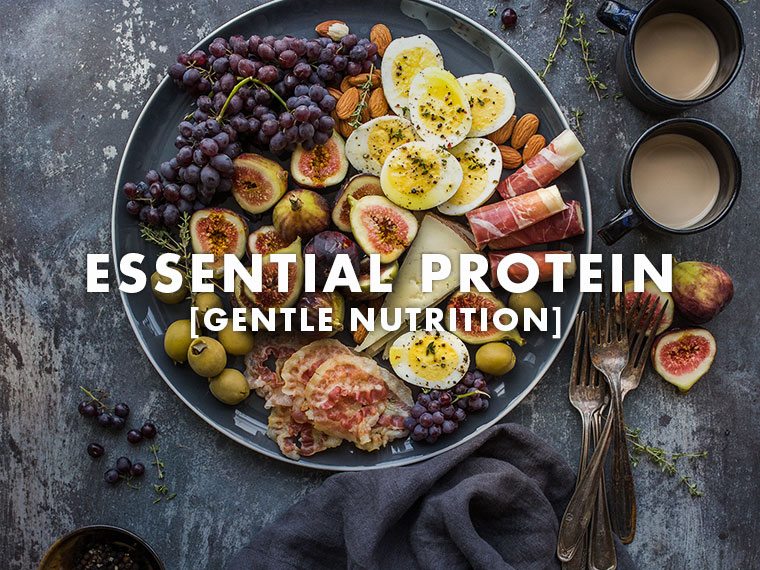 As part of this series on CROWDING IN we've learned how a focus on getting more of the good stuff rather than restriction is key, when it comes to sustainable health.
We've begun by looking at a variety of ways to crowd in more fibre, vitamins and minerals with veggies and fruit , and today I want to talk to you about protein; why we need it and where to get it.
Whether you're vegan, paleo or neither, protein is essential for optimal health. Protein is found in every cell in your body and plays a role in basic bodily functions from walking to digesting food.
Protein builds, repairs and maintains muscle tissue, can help maintain healthy skin and hair, is involved in the production of enzymes and hormones and can also support your immune system. Protein is referred to as an essential nutrient for a reason!
Protein helps to promote optimal levels of fullness so that you can feel more satisfied in-between meals. It also has a significant role in keeping your blood sugars balanced throughout your day helping prevent the highs and lows that can occur without.
When it comes to crowding in, how much protein should we be consuming?
Ideally you're eating protein throughout the day at both meals and snacks (if you need them). When it comes to how much, I usually stick to the palm-sized recommendation as a starting point. You may need more, or less, depending on your unique body. You'll find that because of the satiating ability of protein you may not get as hungry as often and your energy is more consistent. Having protein at lunch can also help prevent that dreaded afternoon-slump.
Eating a variety of different protein is key and will improve the likelihood of you getting a complete intake of the amino acids your body needs. This is especially true if you don't eat animal proteins.
If you eat animal protein, I suggest choosing ethically raised meats and fish. These may cost more but the importance is quality, not quantity when it comes to animal protein.
Great vegetarian sources of protein include nuts, seeds (such as chia seeds, sunflower, pumpkin and sesame), legumes and eggs.
There are also some fabulous protein powders available here in New Zealand (and worldwide) that are perfect for smoothies as well as gluten free baking. My personal favourite is Nuzest New Zealand's Clean Lean Protein*, but for those who consume dairy products, whey is another great option.
Play around with different sources, experiment with meat-less days if you'd like, and pay attention to your hunger and energy levels when you make the effort to crowd in some good protein sources.
You are your own guru, listen closely and your body will give you the answers.
Michelle
Get a discount on your purchase at Nuzest with my discount code: MYANDLE
Ingredients
½ cup Sunflower Seeds
½ cup Pumpkin Seeds
½ cup Sesame Seeds
½ cup Sesame Seed Butter (Tahini)
½ cup 85% Dark Chocolate, chopped
½ cup Organic dried cranberries or cherries
2 tablespoon Maple syrup
Instructions
Process the seeds in a food processor until well chopped and fine.
Add the chocolate and cranberries and pulse a few times until chopped.
Add the seeds to a bowl and add the rest of the ingredients.
Shape into walnut sized balls.
If the mixture is too sticky to roll into balls – place in the fridge until the mixture hardens a little bit. Alternatively, you could press into a baking paper lined slice tray and cut these into slices.
Get the Guide to Gentle Nutrition eBook
Go to next Gentle Nutrition article – Fats that Fuel
About Michelle Yandle
Michelle Yandle is a Health and Nutrition Coach on her way to becoming a Clinical Nutritionist with The Holistic Performance Institute., She is also an international speaker with IISB, successful entrepreneur and two-time author with a focus on traditional diets for health, and nutrition coaching for Empowered Eating™.
Michelle has a bachelor degree from Dalhousie University, Halifax, a graduate degree in education from the University of Maine at Fort Kent, and also holds certificates in health and nutrition coaching through the school of Holistic Performance Nutrition, the Institute for Integrative Nutrition and Cadence Health in New Zealand.