Love From Within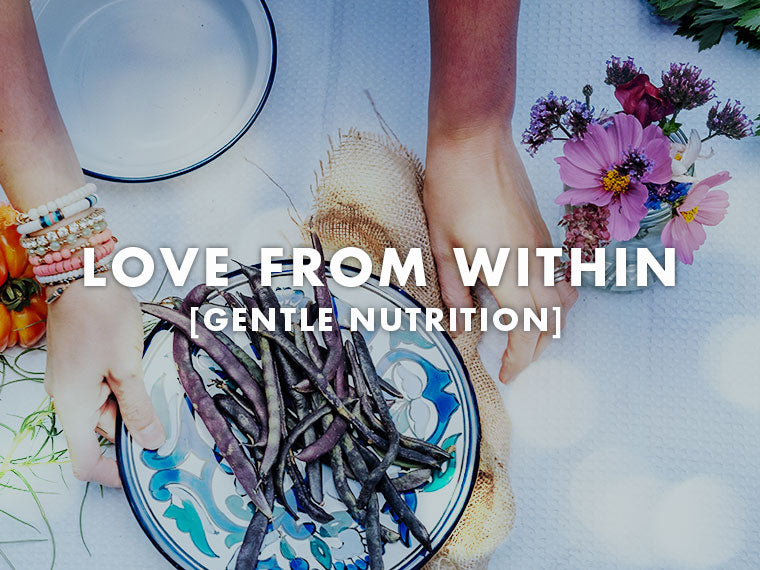 As part of our
 

Gentle Nutrition

 

series, we've been introduced to the 'crowding-in' theory and crowded-in all sorts of different foods necessary to make us happy and healthy. We've crowded-in

 

veggies,

 

protein, healthy

 

fats

 

and

 

fibre

 

and today, I want to crowd in all those amazing microorganisms that populate and feed our gut.

When I say THE GUT I'm essentially referring to the whole of our digestive system. It starts in the mouth and ends, well, you know where it ends! The gut's main roles are to absorb nutrients and get rid of the things that shouldn't be in our body. If we were a wheel, our gut would be the hub. 80% of our immune system resides there and 90% of serotonin is created within it. Ultimately, if the gut isn't happy, we're not happy!
So what do we need for a healthy gut?
Essentially, three things; a healthy immune system, an intact lining and a good balance of bacteria.
Today, I want to focus on the latter.
Did you know, that we have more bacteria in our bodies than we do human cells?
Overall we've got a couple of kilos of thousands of different strains of bacteria in our bodies at any given time. Diversity is important and the complexity of that diversity is a result of different factors from food to birth to the amount of stress in our lives.
Good bacteria is important for gut health and are like tourists coming and going from our digestive system resort. With that in mind, it's important to continue to repopulate our gut bacteria through the right food and lifestyle choices.
Are supplements necessary?
Perhaps in some cases, if we've been through a round of medications or a great deal of stress, but in most cases, I like to start people off with food first. By incorporating probiotic rich foods as well as pre-biotic foods into our everyday diet, we're doing our body (and brain) an abundance of good.
In nutshell – probiotics are the good bacteria that our bodies need and Prebiotics are fibres that your body cannot digest and serve as food for probiotics.
Luckily for us, there is a range of delicious probiotic and prebiotic rich foods that we can crowd into our diet.
Probiotic foods are the fermented goodies including (but not limited to):
Saurkraut
Kefir
Yogurt
Kānga pirau
Kimchi
Kombucha
Prebiotics are also abundant in the foods we eat!
Legumes, beans and peas
Oats
Bananas
Berries
Garlic
Leeks
Onions
By managing stress with the techniques shared by AwesoME Inc. crowding in fibre-rich veggies as often as possible and adding 1-2 different fermented foods to your diet each day, you're well on your way to keeping your gut great.
Gut health doesn't have to be complicated or extreme in fact, stress in general whether it be related to life or food has just as severe an effect on the overall health of our digestive system.
Keep it simple, show your gut the love it longs for and continue to practice gratitude and your gut will love you back.
Michelle
This dip is perfect with organic corn chips or chopped veggies and it's packed with both prebiotics and probiotics to boot!
Serves 2
Ingredients
1 ripe avocado
1 Tbsp lime or lemon juice
1 Tbsp Lime Coconut Water Kefir (or more lime juice)
1 heaped Tbsp of plain sauerkraut (or kimchi for a spicier flavour)
1 Tbsp chopped fresh coriander
1 clove of garlic, chopped
Instructions
Blend all the ingredients in a blender until smooth and creamy. Serve straight away.
About Michelle Yandle
Michelle Yandle is a Health and Nutrition Coach on her way to becoming a Clinical Nutritionist with The Holistic Performance Institute., She is also an international speaker with IISB, successful entrepreneur and two-time author with a focus on traditional diets for health, and nutrition coaching for Empowered Eating™.
Michelle has a bachelor degree from Dalhousie University, Halifax, a graduate degree in education from the University of Maine at Fort Kent, and also holds certificates in health and nutrition coaching through the school of Holistic Performance Nutrition, the Institute for Integrative Nutrition and Cadence Health in New Zealand. 
More about Michelle…