The Powerhouse of Nutrition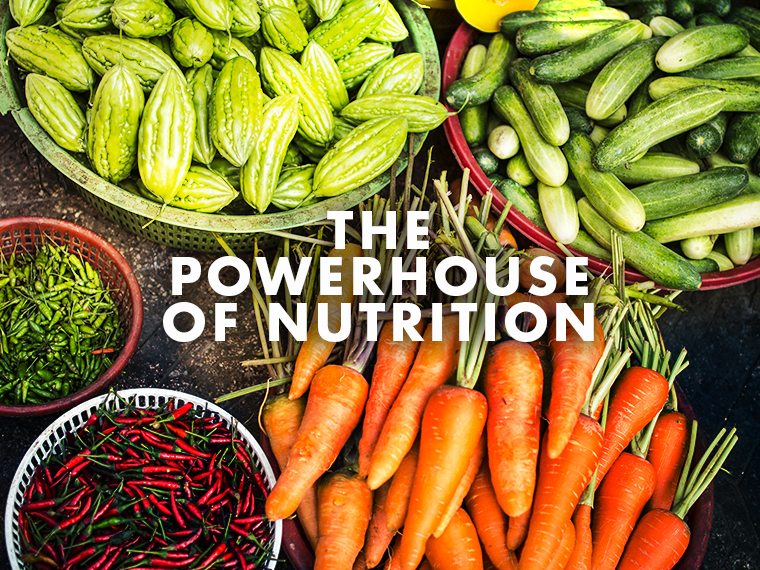 If there is one thing that EVERYONE would agree we need to get more of in our diets it's no doubt vegetables.
There are debates over fat, sugar, protein, meat and many others but when it comes to vegetables, everyone seems to get along.
Last month I introduced you to the nutritional concept of 'crowding in". The idea that to lovingly nourish our bodies we should focus on getting more of the good stuff rather than dwelling on what we think we shouldn't have.
Veggies are nutrition packed powerhouses.
They have an abundance of micro-nutrients that just make us feel amazing inside and out. The more variety of vegetables you get each day the better you'll feel. I promise.
By crowding in more veggies, we can enjoy more energy, clearer skin, weight loss, better concentration and overall feeling fab. Not only that but you're naturally crowding out other options that might make you feel less so.
Government dietary guidelines recommend at least 5 servings of fruit and vegetables a day.  5 a day? Pfft that's so last year.
Ideally, all our plates will be made up of at least ½ veggies and in a perfect world we'd be eating them in between meals as well. I'd love us all to be having  9+ servings of a variety of bright colourful veggies a day, antioxidant-rich berries and seasonal fruit.  Bring back the meat and 3 veg I say!
So, how do you fit in so many veggies?
Do we need to live off salads?  It's really not as daunting as it sounds and if we grow them ourselves or choose seasonal varieties it doesn't need to cost much either. Here are some common ways I crowd in these little gems each day.
Add to scrambles: I love eating eggs, nature's multi-vitamin, but why not give them a boost by adding some greens, mushrooms, tomatoes or capsicums.
Spirilize: If you haven't got a spirializer – you totally should! Kids love watching the curly courgette noodles come through the other end (ok I admit it, I love it too) and they make a great swap for your spaghetti bolognaise. When it comes to pasta, it's really the sauce that adds the flavour so why not swap out your noodles for spirilized courgette or other veggies to boost nutrition and flavour.
Swap out your rice: Curry is delicious with a bed of greens. Again, it's the curry itself that packs a flavour punch and the rice is really just a way to add some bulk. So, why not serve your curry on a bed of sautéed greens?  Another alternative is to grate some cauliflower and lightly sautee as a nutritious rice alternative.
Hide in stews, stews and curries: Finely chop some greens and tell the family it's fresh herbs – or better yet – add some fresh herbs as well!
Swap your snacks: There are some pretty amazing green snacks out there these days. Kale chips can be purchased from just about any health-minded store and are also really easy to make. Or simply make a dip with kimchi and coconut yogurt and enjoy with carrots, cucumber, capsicum or other dippers!
Use as a wrap or burger bun: I know, it doesn't sound nearly as exciting but trust me, once you try it, you'll love it.  Even popular restaurants and take-away places are offering bun-less options.
Add them to smoothies: Smoothies are the ultimate place to get some veggies.  If you really want to go incognito blend into your favourite chocolate smoothie with greens and no one will know.  Spinach and silver beet have a fairly neutral tastes so are my top choices when it comes to covert smoothie action. Another trick I enjoy is freezing chopped courgette for smoothies. They make the smoothie creamy and cold without changing the flavour.  Making a berry smoothie? Why not add some red capsicum – it's adds to the vibrant colour and complements the berries perfectly.
There are so many ways to get more veggies in your diet. Start one step at a time, and use your imagination. Look at your current meals and ask yourself  how you might be able to crowd in some colour.
Here's one of my favourite veggie packed recipes. Enjoy!
Michelle
---
Ingredients (Serves 2)
1 packet of smoked salmon (feel free to omit if vegetarian)
5 Strawberries
2 cups salad greens
1 courgette
1.5 Tbsp balsamic vinegar
3 Tbsp olive oil (lemon infused olive oil is also nice)
Fresh thyme sprigs
Instructions
Drizzle a little bit of olive oil in a frying pan. Cut your courgette into small rounds and gently saute until just cooked. Set aside.
Place the salad green in a bowl and top with the cooked courgette, strawberries and salmon. Drizzle with the vinegar and olive oil.
For a more concentrated flavour – drizzle with balsamic reduction (but you won't need as much!). Sprinkle the salads with fresh thyme.
Michelle
Get the Guide to Gentle Nutrition eBook - Get eBook
Go to next Gentle Nutrition article – Essential Protein
About Michelle Yandle
Michelle Yandle is a Health and Nutrition Coach on her way to becoming a Clinical Nutritionist with The Holistic Performance Institute., She is also an international speaker with IISB, successful entrepreneur and two-time author with a focus on traditional diets for health, and nutrition coaching for Empowered Eating™.
Michelle has a bachelor degree from Dalhousie University, Halifax, a graduate degree in education from the University of Maine at Fort Kent, and also holds certificates in health and nutrition coaching through the school of Holistic Performance Nutrition, the Institute for Integrative Nutrition and Cadence Health in New Zealand.