Move Slow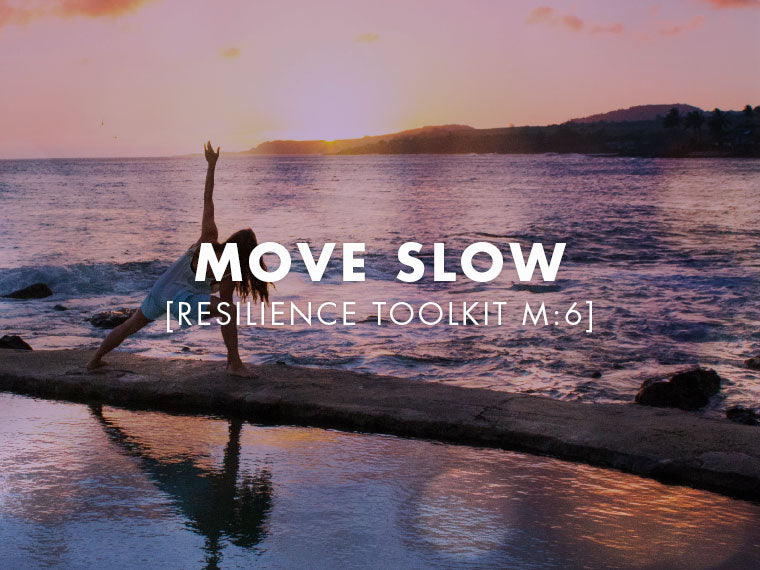 Last month I wrote about moving fast and getting your heart pumping. This month we go a little slower and look at the mental health and wellness benefits of yoga, tai chi, and pilates.
For many of us, a yoga, tai chi or pilates class can be a much more appealing option than a crossfit one.
Less sweat, less strain, and a little bit more relaxation.
While the differences in exertion level is more obvious, the reason we find it so much more relaxing may be less so.
Is it just the soothing music that's usually playing in the background? While that helps set the scene, there's a bit more too it.
In fact, the power of gentler types of exercise comes from its ability to combine many of the different tools we have talked about already – breath, mindfulness meditation, and the power of movement to kick start our neurochemical and hormone processes.
So if you're keen to find some balance for the body and the mind come join for Module 6: Move Slow, in The Resilience Toolkit eCourse. I will show you how these slow forms of exercise are being shown to be effective in reducing symptoms of stress, and emotional distress.
Plus this month we have a special BONUS exercise included that will show you an amazing way  to get started with your slow movement practice.
---
When you arise in the morning, think of what a priviledge it is to be alive, to breathe, to think, to enjoy, to love.
MARCUS AURELIUS
---
Next month, in Module 7, we move away from looking at movement and start exploring the importance of engaging with our families, friends, and communities to develop resilience. I'm really looking forward to this next module as our relationships with others can be so powerful.
See you then!
Juliet
---
Get the whole 12 Module eCourse…
The Resilience Toolkit eCourse 
About Juliet Battersby
Juliet Battersby is a registered Educational Psychologist who has worked in special education with the Ministry of Education, with serving personnel and their families in the New Zealand Defence Force (NZDF), and assessing children's cognitive and academic functioning in private practice.
Juliet has an MA(Hons) endorsed in Clinical Psychology and a Post Graduate Diploma in Educational Psychology. She is a registered Educational Psychologist with the New Zealand Psychologists Board.
More about Juliet…