Move Fast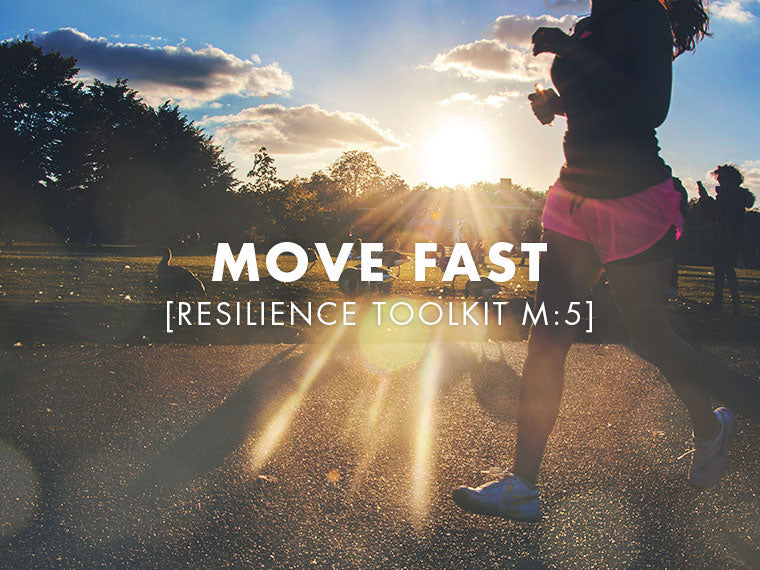 When was the last time you moved? I mean really moved – in the heart pounding, chest heaving, sweaty kind of way.
For some of you exercise might be part of your regular daily or weekly practice, for others it might be less so – and the reasons why might be many and valid. While pounding the pavement for hours might not be realistic or motivating for some, the physical and mental benefits of exercise that lifts your heart rate into what's known as the 'cardio zone' are well researched and hard to ignore.
Don't be pushed by your problems, be led by your dreams.
This month I want to talk about how this type of exercise benefits not only the body, but the mind too.
We all know and understand the relationship between exercise and weight loss aka burning calories, but the impact of exercise on the brain and our emotional well-being is huge. It also has knock-on effects into other areas key well-being areas such sleep and diet.
It's a gift that keeps on giving!
Join us for Module 5: Move Fast , in The Resilience Toolkit eCourse. If you're in need of some help to get you motivated or want to know more about the amazing body-mind connection then you need to check out this module and use the worksheets to help you get moving.
See you at our next lesson Module 6 – Move Slow, where I want to look at other benefits of exercise, particularly the more gentle forms such as yoga, pilates, and tai chi.
See you then,
Juliet
Get the whole 12 Module eCourse…
At AwesoME Inc we have created The Resilience Toolkit eCourse and are currently releasing one module per month direct to you. Starting in January we introduced to you our Resilience Toolkit with Module 1: an Introduction , in which I asked you to do a resilience stock-take. If you haven't already signed up to receive this FREE Module to begin your journey, you can do so here.
In Module 2 , we started focusing on the theme of RELAX, where I show you how to get familiar and regularly practicing two of the easiest and most well researched relaxation techniques – Breathing & Guided Meditation . The RELAX theme is continued in Module 3 , with how to calm your mind using Mindfulness and again in Module 4 where we go in depth into the practice of Gratitude .
Next in our series is Module 5 where I introduce you to the theme of MOVE with Move Fast .
About Juliet Battersby
Juliet Battersby is a registered Educational Psychologist who has worked in special education with the Ministry of Education, with serving personnel and their families in the New Zealand Defence Force (NZDF), and assessing children's cognitive and academic functioning in private practice.
Juliet has an MA(Hons) endorsed in Clinical Psychology and a Post Graduate Diploma in Educational Psychology. She is a registered Educational Psychologist with the New Zealand Psychologists Board.