5 Ways to Boost Your Happiness Through Autumn and Winter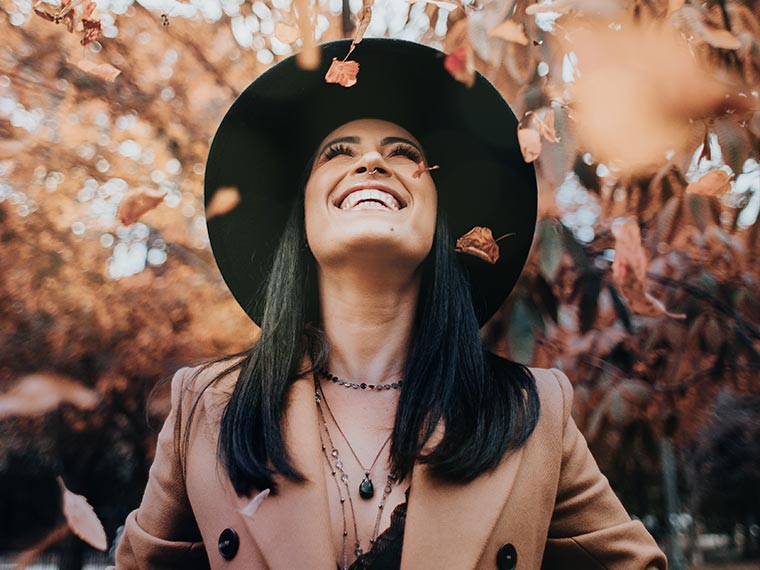 As we enter into the cooler months and experience a decrease in sunlight here in the Southern Hemisphere it's important to find ways to boost your happiness levels and keep your mood uplifted when needed, especially as the temperature drops and we navigate shorter days.
Here's 5 ways to boost your mood through the Autumn and Winter months:
Hug it out 
Hugging a loved one can produce "feel good" hormones in the body. These hormones include oxytocin, dopamine, and serotonin. Once the hormones are released into the body we can often experience feelings of happiness, relaxation, calm and lower levels of depression.
Hugging it out can also help reduce heart rate and blood pressure, one study found a 10-second hug can lead to biochemical and physiological reactions in the body, which included lower risk of heart disease, boost immunity and reduced fatigue.
Engage one of your 5 senses 
Taste - Eat something delicious and comforting or make a cup of your favourite brew
Hearing - Pop on your favourite playlist or get outside and listen to the sounds in nature
Sight - Wear your favourite colour, indulge in some new art or watch the sunset 
Smell - Pop on your favourite fragrance, diffuse some uplifting essential oils or bake some bread!
Touch - Wrap your hands around a warm cup of tea, walk barefoot at the beach or in your backyard, feel the sand or grass between your toes
Find some green space and get outside 
Studies have found spending time in nature or green space can improve sleep and reduce stress, increase your sense of happiness and reduce negativity. It can help us to build positive social connections and create a feeling of purpose to life. Being in green environments can also boost our attention, memory and creativity.
Do some deep belly breathing 
Deep belly, or diaphragmatic breathing, is one of the easiest resilience building tools. Your breathing rate is the only part of your sympathetic nervous system response that you can actively control. And when you bring your breathing rate down it in turn switches everything else off. By changing your breathing pattern you can calm and slow down your heart beat, helping you to shift out of a stressful, emotional state, into a more contented way of being. Check out our FREE printable poster to teach you some quick tips.
Practice Gratitude 
Practising gratitude regularly can strengthen the neural pathways to the bliss centre of the brain, it's an easy and effective way to retrain your brain. Gratitude can improve your mental and physical health, build resilience, increase empathy, improve social connection, increase productivity and happiness. 
AwesoME Inc® guided gratitude, resilience and mindset journals can teach you how to get the most out of your gratitude practice, but also provides many tools and mood boosting techniques, based on the best psychological research, to help get you on the right track and experiencing greater happiness.
Browse our full range of journals and toolkits HERE.
 ---
About Amy Willoughby
Amy is a writer, content creator and life coach at Be and Bloom. Amy is passionate about connecting people through writing, coaching and the power of storytelling. The first 20 years of her career was spent behind the stylists chair as a hairstylist, where she honed her skills of listening, holding space, connecting and creating clarity through conversation. Amy's hairdressing career came to a close after spending 3 years helping clients journey through chemotherapy, fitting and styling wigs. This was the perfect bridge and catalyst for retraining as a life coach which has led to exploration of values, modalities of wellbeing, writing and storytelling.
More about Amy and Be and Bloom…
Photo by Marcos Paulo Prado on Unsplash